"I wanted to preserve my
Smoky, Spicy Tomatillo Salsa Verde Aka Green Hell!
and came up with this. Adding the lemon, lime juice and vinegar for acidity to preserve the salsa. Green tomatoes can be used in place or along with the tomatillos. After opening the canned salsa you can drain some of the liquid so not to watery. Do NOT thicken with flour or cornstarch. FYI- don't like heat replace the hot chili's with bell pepper that you roasted."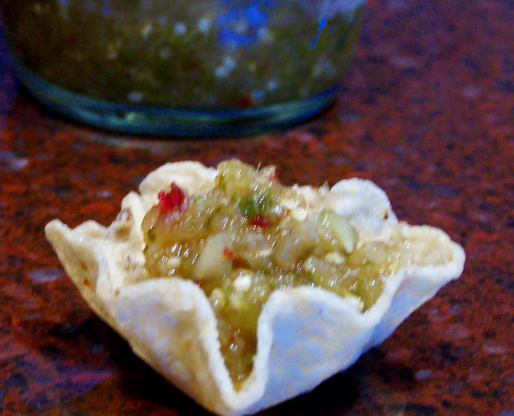 Smoky, Spicy Tomatillo Salsa Verde Aka Canned Green Hell!
2 recipe photos
Directions
Prepare canner, jars and lids.
In a food processor place the first 6 ingredients, pulsing till very small pieces. It will be a tight fit. You can start to pulse to give more room then add additional ingredients.
In a large stainless saucepan combine all the ingredients.
Bring to a boil, reduce heat to medium high heat, stirring often to prevent sticking.
Cook for 10 minutes.
Ladle hot salsa into hot jars leaving 1/2 inch head space.
Wipe rims, center lids and screw on band to fingertip tight.
Place jars in canner, cover and bring canner to a boil.
Process for 15 minutes.
Turn off heat, remove lid of canner and let jars sit for 5 additional minutes.
Remove jars, cool, label and store.