"Smorrebrod are open-faced sandwiches, made with just about any ingredients and usually eaten with a knife and fork. This is more a list of sandwich options rather than one specific recipe so ingredient amounts are an estimate. Use any of these combination suggestions or create your own with the ingredients you have on hand. Set out a smorgasbord buffet and let your family or guests make their own sandwiches! Posted for ZWT-6; from the Usborne Children's World Cookbook Gramma gave my son when he first started learning to cook."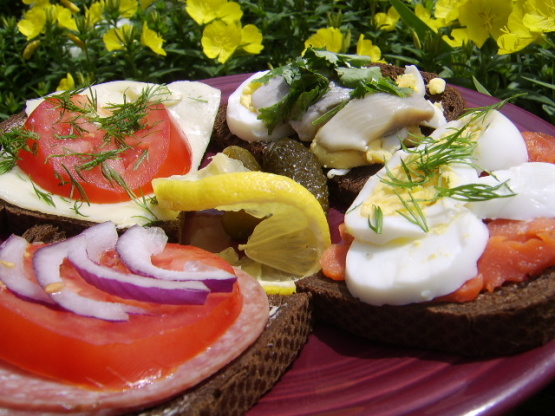 Smorgasbord or Smorrebrod (Denmark)
2 recipe photos
1

head lettuce, leaves washed and dried

1

loaf bread (dark rye preferred)

3

ounces butter, softened for spreading (or margarine)

6

ounces cooked shrimp (or small prawns)

2

small tomatoes, sliced thinly

1

small red onion, sliced into thin rings

6

ounces salami, thinly sliced

2

ounces blue cheese, sliced

2

ounces havarti cheese, sliced

2

hard-boiled eggs, sliced

3

ounces smoked salmon, thinly sliced

3

ounces gravlax, sliced

2

ounces pickled herring
black pepper, to taste

1

lemon, sliced thinly (garnish)

2

gherkins (garnish)

dill, to taste (garnish)

2

tablespoons garden cress (or baby mustard cress, garnish)
Directions
Butter each slice of bread you want to use then proceed with ingredients for any one of the options below:.
Salami and tomato - cover the bread with slices of salami. Add slices of tomato and some onion rings.
Prawns and lemon - put a lettuce leaf onto the bread. Spoon prawns on top and add some black pepper and a twisted slice of lemon.
Blue cheese and lettuce - cover the bread with lettuce and thin slices of blue cheese. Sprinkle cress on top.
Cheese and tomato - lay thin slices of Havarti cheese on the bread. Then, lay a row of sliced tomato along the middle. Add a gherkin garnish.
Smoked salmon and egg - cover the bread with slices of hard-boiled egg and smoked salmon. Sprinkle it with chopped dill.
Lettuce, egg and herring - lay slices of hard-boiled egg and fillet of pickled herring on the bread. Sprinkle it with cress.
Garnishes:.
Cut a slice of lemon in half. Make a cut in the middle of each half, then twist the ends so that the slice stands up.
Make thin cuts along the length of a gherkin, cutting almost to the end. Then, spread the slices out like a fan.