"Ready, Set, Cook! Reynolds Wrap Contest Entry. This recipe is a great family dinner recipe because not only is it delicious, but it is made with things that are typically already in your pantry. As a bonus, it has a generous serving of vegetables to keep those kid's tummies healthy. The time might seem overwhelming, but it is not a very active recipe - it's easy to make!"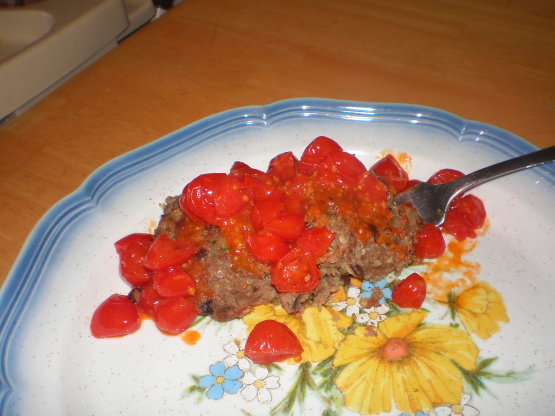 Smothered Beef Patties #RSC
1 recipe photo
Directions
1. Heat oil and garlic in a large saucepan over low heat for 15 minutes, or until garlic cloves start to turn brown, stirring occasionally. Remove garlic and turn heat up to medium high. Add tomatoes and rosemary and bring to a boil. Let tomatoes boil gently for 10-15 minutes, or until half of the liquid has evaporated. Cover, turn heat down to low, and let tomatoes simmer for 2-3 hours, stirring occasionally.
2. Preheat oven to 350°F Mix ingredients for patties in a large bowl, then shape into 6-8 patties, about 1 inch tall.
3. Grease Reynolds Wrap® Foil and wrap patties tightly in the foil, with the seam on the top of the patties. Bake in preheated oven for 1-1 ½ hours, or until internal temperature reaches 160°F Unwrap and smother with tomatoes. Enjoy!