"This is my mother-in-law's double-crust pastry recipe for pie crusts, and I'm posting it for safe keeping. This is the crust that MUST be under every homemade pumpkin/pecan/any pie for our holidays (or my husband's side of the family thinks the pie is totally gross--haha). I titled this recipe as I did because it could have been my grandma's (her mother's), or it could have come from a church group, a recipe book, a neighbor, or some other source that I am unaware of. We (our family) has made single- and double-crust pies as well as peach cobbler using this recipe. It comes out flaky and tasty. NOTE: This recipe halves fine, but DOES NOT double well. If you want to make 4 pie crusts, make 2 separate batches."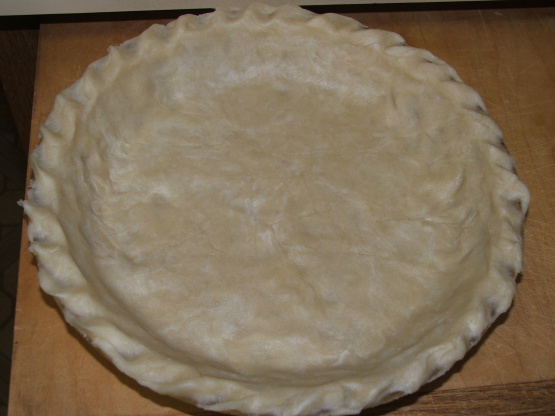 Someone's Pastry for a Double-Crust Pie (Or Two Pie Crusts)
2 recipe photos
Directions
Prepare to have the ice water handy by filling a Pyrex measuring cup with water and ice cubes. Set it by your work area, and let it get icy cold.
Combine flour and salt in a medium bowl.
With a pastry cutter (or two knives), cut the shortening in until the mixture resembles pea-sized crumbs.
Take out the pastry cutter and, while stirring with a fork, add 1 Tablespoon ice cold water at a time until the dough is sticky and comes together. If the weather (or your kitchen) is warm/humid, less water will be needed. Be sure you have the consistency you want, because it's very difficult to add more water.
Form half the dough into a ball with your hands, and flatten the ball into a 1/2" thickness, rounding the edges.
Place the dough onto a lightly floured surface (you can place between sheets of wax or parchment paper, if that is easier), and roll into a 10" circle (roll with your wrists doing the work, not your shoulders. I saw that on a Bobby Flay - Pie Throwdown episode).
Gently transfer to a 9" pie plate. Gently press the pastry down into the plate, being sure not to stretch or tear the dough. If it does tear a little, just take some off the edge, and "patch" it.
Create a decorative edge around the top, and cut any extra crust off of the edge.
Repeat for a second single-crust pie, or fill the bottom crust and top with the second half of this recipe for a double-crust pie.
Blind bake the crusts or fill and bake as directed in your recipe.