"My godmother made these brownies for my brother and I when we were growing up. All I remember is that they were my favorite and I couldn't get enough of them. Believe me, I tried! I am still a huge Kahlua fan and these brownies are , by far, one of my favorite ways to enjoy it. *A batch of these also make a GREAT gift during the holiday season!*"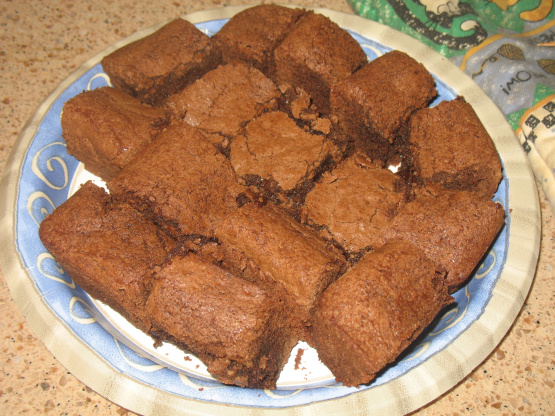 Soomie's Kahlua Brownies
1 recipe photo
Directions
Heat oven to 350 degrees F.
Grease one 8 X 8 inch cake pan.
Mix together the flour, baking powder and salt, and then set aside.
In a saucepan over low heat, melt the butter and unsweetened chocolate, stirring frequently until smooth.
Remove the saucepan from heat and let cool.
Beat the eggs and sugar together until light and fluffy.
Mix in the cooled chocolate mixture, then mix in the Kahlua and the flour mixture.
Spread the completed batter evenly in the cake pan and bake for 30-35 minutes or until a toothpick inserted in the middle comes out clean.
Cool slightly, then brush the top of the brownies with about 1-2 tablespoons of Kahlua.
Cut into squares and enjoy.