"While I was visiting my friend in Arizona, she had me help her make Sopaipillas. I loved them! They're mexican, but sold in Arizona, New Mexico, Texas, and other states near Mexico. You can literally point to the mountains at the back of her house and say "There's Mexico!" Mexican fried breads. Golden fried puffs, usually served with butter or honey for dessert. You can also try them with cinnamon and sugar."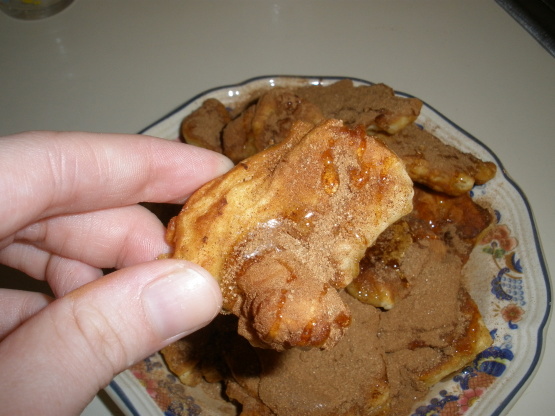 Sopaipillas
2 recipe photos
Directions
In a medium bowl, mix flour, salt and baking powder.
Cut in shortening with 2 knives (or you can use your fingers) until mixture resembles cornmeal. Stir in warm water until all ingredients are moist.
Turn dough out onto a lightly floured surface. Knead until smooth, about 5 minutes. Cover dough with plastic wrap or a dry towel.
Let rest at least 30 minutes. For later use, dough may be placed in a plastic bag and refrigerated 24 hours.
Cut dough in half. On a lightly floured surface, roll out dough into a saucepan or deep fryer (I prefer to just use the counter).
Heat to 400 degrees F (205 C). Carefully drop dough squares 1 at a time into hot oil.
Cook until puffed and golden brown, turning once. If sopaipillas do not puff immediately, oil is not hot engouh. Drain cooked sopaipillas on paper towels.
Serve immediately with honey. Makes 35-40.
You can also roll dough into circles and cut them in half, or watever shape you'd like.
get the genius kitchen app.
Watch on your iPhone, iPad, Apple TV, Roku, or Fire TV.
Learn More