"There is nothing difficult about making REAL sour cream chicken enchiladas. Every phase of the preparation is really easy. They simply take time and a love for Tex-Mex cuisine. I highly recommend you make two batches of enchiladas; one to eat, one to freeze. This recipe will fill two 13x9 inch casserole dishes."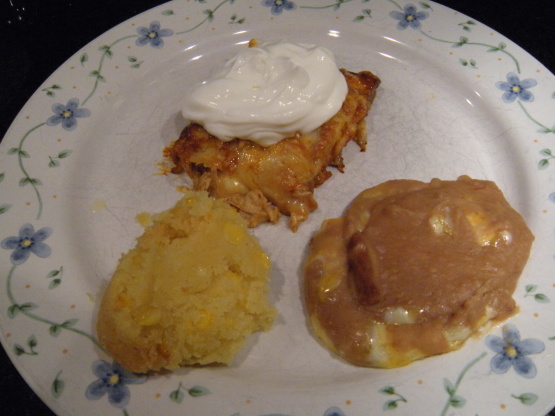 Sour Cream Chicken Enchiladas
2 recipe photos
Directions
In a large skillet on medium high heat, add shredded chicken, diced tomatoes, green chilies, minced garlic; cook for 7- 10 minutes, until you see the tomatoes breaking down. Add in cumin, chili powder, and flour; cook for 2 minutes, stirring constantly and getting the spices mixed well over the chicken. Pour in chicken broth, stir in well.
Chicken filling at this point should have enough liquid to stir easily, but NOT be soupy. (It's just like when you're seasoning taco meat, the liquid is there to help the spices adhere to the meat.) REDUCE HEAT to medium low. Continue to cook until meat has thickened and almost dry, stirring regularly, about 20-30 minutes. Remove from heat.
DO AHEAD TIP.
At this point, you could easily move the chicken filling to an airtight container and store in the refrigerator up to three days. I like to refrigerate overnight to get a better flavor when I'm rolling tamales and enchiladas.
Back to the enchiladas!
Prep your work area for assembly.
Spray the casserole dish with nonstick cooking spray. Use a tray or large sheet pan to work on; it's easier to clean up. Take one tortilla and fill with meat filling across the bottom of tortilla, as seen in picture above. Depending on the size of the tortillas, the amount of meat will vary. I, personally, like meaty enchiladas, so I fill'er up! As you can see from the pictures. Once you've filled the casserole dish, set it aside.
Preheat oven to 375F degrees.
It's time to make the sour cream sauce!
In a medium sauce pan on medium heat, melt the butter and add flour. Whisking flour constantly; cook for 2 minutes. Gradually whisk in chicken broth and bring to a boil, whisking frequently. Remove from heat; stir in sour cream; pour sauce evenly over chicken enchiladas. Top with Monterey Jack cheese. BAKE uncovered 25 minutes.
Cover the second casserole dish with heavy foil and freeze to eat later. When you're ready to eat it; thaw enchiladas. Heat oven to 350F degrees and reheat for up to 40 minutes, or until hot. I recommend keeping the foil cover on the baking dish.
It's truly worth all the effort to make your own sour cream chicken enchiladas. Your family will really feel special when they taste them.
My good friend, Ben over at What's Cooking.com makes The Perfect Mexican Rice go to with these enchiladas.