"I always thought that "cut-out" cookies were difficult so I never even attempted them. But, when I found this recipe and saw the beautiful cookies that resulted from it, I bit my lip and decided to give it a go. Of all the cookies I made that year, 1996, these were every person's favourite cookie! Who knew?! Since then, I've made these throughout the years and also, throughout the year, using different cutters for the various occasions in life. Use either a glaze, Royal Icing, or shake coloured sugars on top to decorate your cookies. I prefer to use lemon oil in these but at other times I will add 1 teaspoon of vanilla, almond or rosewater to change the flavour. Also, there are times that I will add 1 teaspoon of cinnamon, cardamom or ground lavender to these cookies. They adapt very easily to your own preferences."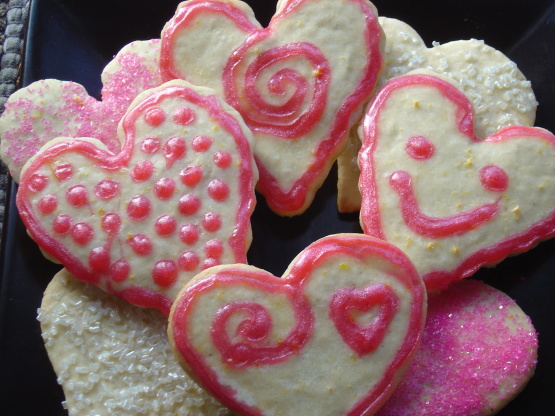 Sour-Cream Sugar Cookie Cut-Outs
9 recipe photos
Directions
NOTE: Ingredients and Directions for Glazing Icing is at bottom of Directions.
Beat butter and shortening about 30 seconds or until softened.
Add sugar, egg, sour cream, baking powder, lemon oil and half of the flour.
Beat until thoroughly combined, scraping side of bowl. Beat or stir in the remaining flour.
Divide dough in half. Cover and chill for 2 to 3 hours or until easy to handle.
Roll dough on lightly floured surface to 1/8 inch thick. Cut with desired cookie cutter, dipped in flour to prevent sticking. Place on parchment-lined baking sheet.
Bake at 375 degrees for 5 to 6 minutes or until edges are firm and very lightly browned. Slide parchment paper with cookies attached onto counter top to cool for 5 minutes. Remove to wire rack to cool completely.
GLAZING ICING:.
If you choose to decorate your cut-outs with coloured icing, blend 1 cup sugar and 1/2 cup water in small saucepan. Boil until 1st indication of threads appear (230 degrees). Remove from heat; stir in 1/4 cup powdered sugar. If icing becomes sugary while using, reheat slightly with several drops of water.