Want more from Genius Kitchen?
Watch on your Apple TV, Roku, or Fire TV and your iOS, Fire, or Android device.
Learn More
"(Recipe edited Sept 2011). Sosaties are not just any old kebabs. They're lamb meat on skewers, but they are marinated in a distinctive aromatic Malay-style sauce. Because lean leg of lamb is the meat of choice, we prefer to also thread a few fattier pork strips on the skewers. Our S A lamb has no smell, or sometimes just a delicious, faint herb aroma from the bushes they graze on. This is also one of our heirloom pioneer dishes, because the sosaties in this sauce can last for days without refrigeration. (We don't do that these days!) Absolutely meant for grilling -- but do not let it dry out! Five minutes, then switch the grid, and 5 minutes more over fairly hot coals should do it. Ideal picnic or camping food."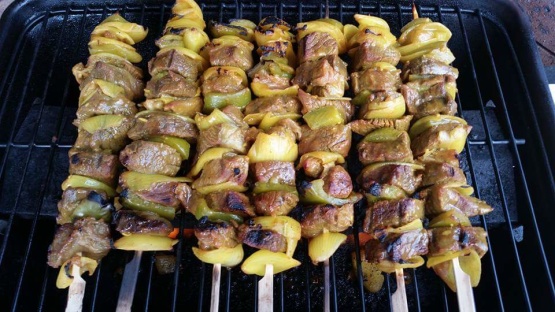 South African Sosaties (Malay Kebabs)
4 recipe photos
The meats

3 -4

lbs leg of lamb
1 1⁄2 lbs medium fat pork (pork rasher, if you can get that cut)

12 -16

dried apricots, good quality

6

small onions, such as pearl onions about the size of a small plum, peeled and each onion cut crosswise into 2-3 th

12 -16

wooden skewers

The marinade

2

medium onions, cut into fine rings

oil (for frying)

2

tablespoons coriander seeds, crushed

5

bay leaves, bruised (or 12 lemon leaves, bruised, or some julienned lemon zest)

1

teaspoon ground cinnamon

1

tablespoon curry powder, mild

1

teaspoon ground ginger (or 1 tablespoon grated fresh ginger, heaped)

1

teaspoon ground allspice

6

tablespoons brown sugar

1

tablespoon cornflour

2

teaspoons salt
3⁄4 cup white vinegar (grape or wine vinegar)
1⁄2 cup dry red wine, good quality

1

tablespoon apricot jam, fine

4

garlic cloves, crushed and chopped
1⁄2 cup milk
1⁄2 cup water (may not be needed)
Directions
Make the MARINADE first, as it has to cool down completely. Use a large pot.
Fry the onion rings in oil until light brown. Stir now and then.
While onion fries, mix all the dry ingredients in a bowl: the crushed coriander, all the spices, the brown sugar, the cornflour and the salt.
(I prefer using a heaped tablespoon of grated fresh ginger: if you use that, add it with the garlic to the liquids. I put all the liquid ingredients, including the jam, garlic and fresh ginger, in a bowl or measuring jug).
When the onions are light brown, stir in the mixed dry ingredients, and fry for a minute or so to release the flavours. Add an extra splash of oil, stir, and don't let the spices burn.
Turn heat lower, and add the liquids: vinegar, wine, apricot jam, grated ginger (if using) and garlic to taste. Also add the lemon or bay leaves, or julienned lemon peel. (These can be left out).
Stir well and simmer slowly until thickened.
Now taste carefully: the sauce should neither be too acidic or too sweet, just spicy and tangy. Adjust by adding either a little more vinegar or lemon juice, or more sugar. (In any such recipe the cook must taste and adjust!). And no, the 6 tblsp sugar are not too much. You do not want an acidic sauce, just a tangy one!
Cool the sauce, and stir in the milk and a little water. It must be of a coating consistency. If you think it is too thick, add a little more water and stir well. Leave sauce in pot, and cut up the meats.
Cut the meat off the leg of lamb, and cut into bite-sized chunks, not too small. Do the same with the pork. The pork should have fat on it, and the best ratio of lamb to pork is about 2 - 1. (If you dislike pork, leave it out).
The number of apricots, onions and skewers given could vary, as it will depend on how much meat you cut off the lamb leg, and how much meat you put on a skewer.
The meats: the meats should be strung on the skewers, alternating the different ingredients, with about 2 apricot halves and 2 onion rings per skewer. The lamb chunks should predominate.
Using a rectangular glass or ceramic dish (you could use Tupperware but not metal or stainless steel) pack in the skewers of meat, and cover every layer with sauce. I take the pot of sauce, roll each sosatie skewer in the sauce, and pack in a plastic container. When all the skewers have been "sauced", up-end the leftover sauce over the sosaties in the container. Seal airtight and refrigerate.
You will probably have 2 - 3 layers of skewers. To make sure they're all coated, turn the container upside down once a day.
Cover and keep in fridge for 2 - 3 days before use. The sosaties will improve on standing, and can be kept up to 5 days in the sauce.
Grill as explained in the introduction. Goes well with traditional yellow rice or basmati, or potato salad and a mixed green salad. Ideal food to take on a picnic!
get the genius kitchen app.
Watch on your iPhone, iPad, Apple TV, Android, Roku, or Fire TV.
Learn More