"This iconic South American stew, called locro, is the perfect hearty winter meal when served with hot crusty bread. Roasted squash seeds add crunch.Locro (from the Quechua ruqru) is a hearty thick stew popular along the Andes mountain range. The dish is a common plate for the Peruvian cuisine, which at one point held the center of the Inca empire. It is also one of the most typical Argentine dishes prepared by the different native Indian tribes at a time of the Spanish conquest. Its origin dates to before the Spanish colonial times. Locro at the table, with quiquirimichi and bread.The defining ingredients are corn, some form of meat (usually beef, but sometimes beef jerky or chorizo), and vegetables. Other ingredients vary widely, and typically include onion, beans, squash or pumpkin. It is mainly eaten in winter and is therefore has a greater caloric value. In Argentina it spread from the Cuyo region to the rest of the country. It is considered a national dish and is often served on May 25, the anniversary of the May Revolution. Recipe CuisineAtHome Magazine, Issue 79, February 2010 edition. Locro being served at Simoca market, ArgentinaIn some parts, such as in the Santiago del Estero Province of Argentina, a red hot sauce made from red peppers and paprika known as quiquirimichi is served on the side."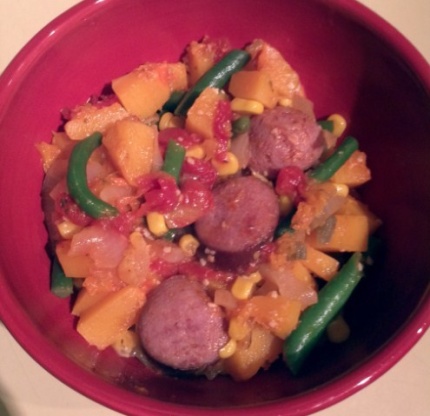 South American Butternut Squash Stew
1 recipe photo
READY IN:

1hr 30mins

SERVES:

8

YIELD:

12

cups

UNITS:

US
Directions
Peel squash using a potato peeler.
Cut squash in half; remove seeds and reserve to roast.
Dice squash flesh into 1-inch pieces; set aside.
Heat 1/4 cup oil in large pot over medium heat.
Add sausage; cook breaking up chunks with a wooden spoon, until sausage is brown on allsides, about 10 minutes.
Add garlic; cook 1 minute longer.
Stir in squash, tomatoes, broth, jalapeo, oregano, and smoked paprika.
Partially cover pot; reduce heat to medium low.
Cook stew, stirring occasionally, until squash is almost tender, about 20 minutes.
Add beans and corn.
Partially cover pot, cook 10 minutes longer.
Stir in cilantro.
Season stew with salt & pepper. (Serve hot sauce on the side).
TO ROAST SQUASH SEEDS:.
Preheat oven to 350ºF.
Line a baking sheer with parchment paper.
Rinse reserved seeds to remove any fibrous strands.
Dry seeds with paper towels.
Toss seeds with1 T extra-virgin olive oil; season with salt and pepper.
Roast seeds on prepared baking sheet for 15 minutes.
GARNISH:.
Crumbled feta cheese or Cotija cheese.
Roasted squash seeds.