"This is my go-to recipe when company is coming. Everyone who tries this chicken thinks it is absolutely delicious. I just love it! It is my favorite recipe to eat and to make. I serve it with a light salad, my Garlic Butter New Potatoes (also posted), and some lightly roasted asparagus. I have also used boneless, skinless chicken thighs in the past instead of the chicken breasts. This adds great flavor. I believe I made 5-6 thighs. I took this recipe from Southern Living magazine, and it is also in their Ultimate Quick and Easy cookbook. Enjoy!"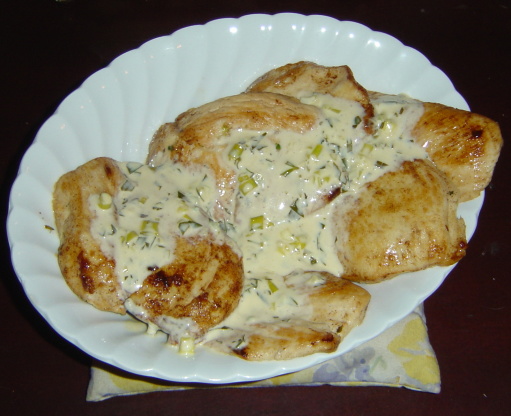 Southern Living's Tarragon Cream Chicken
1 recipe photo
Directions
Place chicken between two sheets of heavy-duty plastic wrap; flatten to 1/4 inch thickness, using a meat mallet or rolling pin.
Combine 1/2 teaspoons each of salt and white pepper; sprinkle over both sides of flattened chicken.
Melt butter in a large nonstick skillet over medium-high heat. Add chicken; cook five minutes on each side or until done. Remove from skillet, and cover with aluminum foil to keep warm.
Add lemon juice to the skillet, and cook over for thirty seconds, stirring to loosen particles from the bottom of the skillet.
Add cream and next five ingredients; bring to a boil. Cook, stirring constantly, 4 minutes or until the sauce is slightly thickened.
I always place the chicken on a serving plate, and then pour the sauce over the chicken. I then garnish with lemon slices and tarragon sprigs.
Enjoy!