"Ready, Set, Cook! Special Edition Contest Entry: This is such a pretty dish! When you remove it from the springform pan, it resembles a desert flower."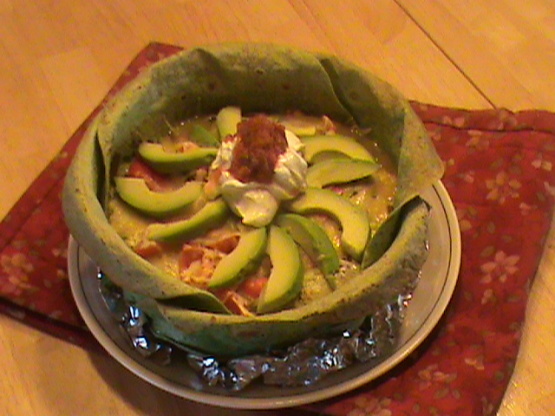 Southwestern Brunch Torte
1 recipe photo
Directions
Preheat oven to 350 degrees. Line a 9 inch springform pan with tin foil. Grease the foil with butter. Place one of the tortillas on the bottom of the pan. Cut the other 2 tortillas in half and drape them around the sides. The tortillas should overlap the top edge by one inch. Place olive oil in a large sauté pan, add the potatoes and cook for 5-6 minutes.
Beat the eggs, milk, cilantro, cumin and salt in a medium bowl. Place the potatoes on the bottom of the pan, followed by the cooked bacon, and bell pepper. Pour half of the egg mixture on top, followed by half the cheese. Lay the whole chiles over the top of the cheese and then the chopped tomato. Pour the rest of the eggs on top, followed by the rest of the cheese.
Bake in the oven 45 minutes or until the egg is set. Remove the springform pan and transfer to a plate. Lay avocado slices in a circular pattern over the top of the torte. Serve with a dollop of sour cream and salsa.