"A new taste bud adventure for fans of both smokey ballpark style food and spicy south-of-the-border flavors. Low carb and low fat. Inspired by Rachel Ray Mag's "Out-of-the-Park Burritos" recipe."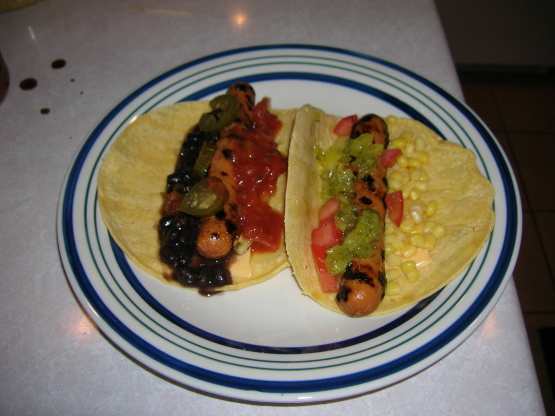 Southwestern Corn Dogs
1 recipe photo
1

(14 ounce) package fat free turkey hot dogs

1

(8 ounce) can sweet corn

1

(8 ounce) can black beans

1

habanero pepper, yellow

8

corn tortillas, yellow

8

slices fat-free cheddar cheese

1

(8 ounce) jar dill relish

1

(6 ounce) jar peach salsa (or your favorite salsa flavor)

1

(6 ounce) jar pickled jalapeno peppers

1

(4 ounce) jar hot pepper sauce (I chose Valentina, or use your favorite hot sauce)
Directions
Start grilling hot dogs on barbeque or indoor grilling pan.
Heat corn in microwave-safe dish, approx 2 minutes.
Heat black beans in microwave-safe dish, approx 1 minute 30 seconds.
Slice habanero pepper into matchstick size slices.
Place tortillas between dampened paper towels and microwave on low heat, approx 12 seconds per tortilla.
To build -- Take each tortilla, sprinkle with cheese.
Place whole hot dog in center of tortilla (should begin to melt the cheese).
Add a few sliced peppers on one side of the dog.
Spoon corn on same side.
Add relish to other side of the dog.
Spoon black beans on that side.
Drizzle with hot pepper sauce.
Roll up tortilla, flip over.
If cheese is not fully melted, microwave for a few seconds.
Top with jalapenos and salsa.
Enjoy!