"Classic, southern-style deviled eggs with a smoky twist, bacon and smoked paprika. I created this recipe for a friend; her widowed dad loves deviled eggs and she hoped I might have a recipe for them."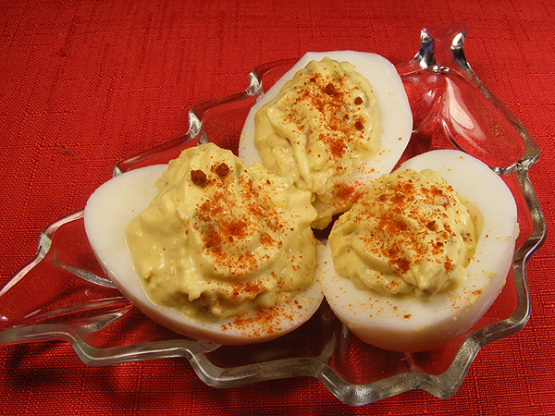 Special Request Deviled Eggs
2 recipe photos
Directions
Cover eggs with cold water and bring to a boil.
Remove from heat and cover 12 minutes.
Pour off hot water and cover in ice water until cool to touch.
Peel and slice eggs lengthwise.
Gently pop out yolk into a bowl.
Smash yolks with a fork and mix in remaining ingredients.
Spoon or pipe egg yolk mixture into the egg halves.
Sprinkle with smoked paprika.