"My boyfriend and I came home one night after a long long long day of work and play. We were starving and oh no, there was NOTHING to eat. I had just been on this whole baking kick weeks prior so there was tons of flour and eggs left from it, so I (very tiredly) concocted this. Its so basic you probably have already made it yourself but its so yummy and hit the spot for both of us. You can serve it up with anything. I used crunchy peanut butter and honey on top and my boyfriend used apple custard. Of course you can top with maple syrup or any thing really... be creative. There is one ingredient, I bet that will surprise you. Enjoy."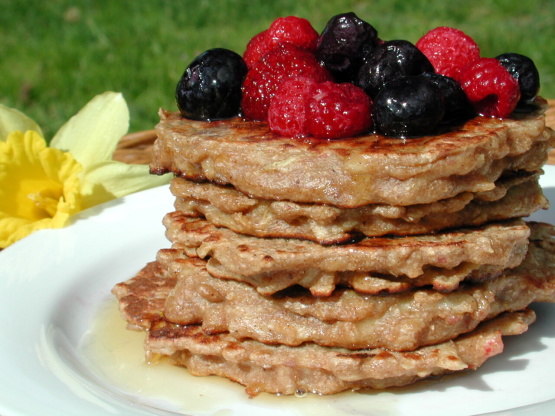 Spicy Apple Pancake/Fritters
2 recipe photos
Directions
Mix all ingredients together well.
Use a 1/4 cup to scoop up mix and fry in butter, soy butter, oil, non-stick spray, etc. just like you would a pancake. I used avocado butter, but I live in New Zealand now where everything is avocado.
Keep finished cakes warm in oven on low till all mix is used.
Top with whatever you want. Eat. They go down best when you eat them with someone you love.