"This was the 1958 Grand Prize Winner in the Pillsbury Bake-Off. Kudos goes to Dorothy DeVault of Ohio who created it. It's described as a miniature pastry-a lighter version of old fashioned apple dumplings. It would look divine served in a single serving glass dessert dish topped with a dollop of whipped cream and a cherry!"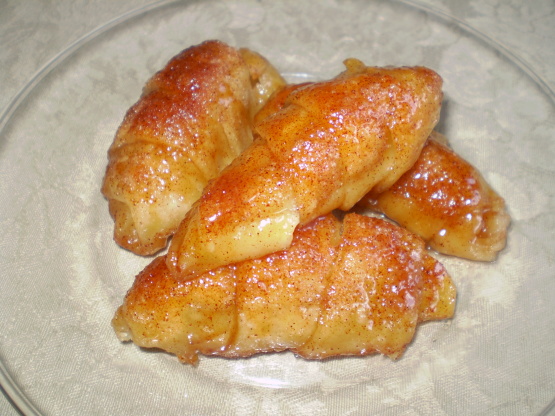 Spicy Apple Twists (Pillsbury Bake-Off Winner)
1 recipe photo
Directions
Heat oven to 425.
Cut each apple into 8 wedges.
Lightly spoon flour into measuring cup and level off.
In a medium bowl, blend flour and salt.
Using pastry blender or fork, cut in shortening until mixture resembles coarse crumbs.
Sprinkle flour mixture with water 1 tablespoon at a time, mixing lightly with fork until dough is just moist enough to hold together.
Shape dough into ball.
On floured surface, roll dough lightly from cener to edge into 12 inch square.
Spread with 1 tablespoon softened margarine.
Fold 2 sides to center.
Roll to 16 x 10 inch rectangle.
Cut crosswise into 16 (10 inch) strips.
Wrap 1 strip around each apple wedge.
Place 1/2 inch apart in ungreased 13 x 9 inch pan.
Brush each wrapped apple wedge with melted margarine.
In small bowl, blend sugar and cinnamon; sprinkle over wrapped apples.
Bake at 425 for 20 minutes.
Pour water into pan.
Bake an additional 12-17 minutes or until golden brown.
Spoon sauce in pan over twists.
Serve warm or cool, plain or with whipped cream.
*If using self rising flour, omit salt.