""This recipe started as an experiment one Saturday night when I wanted to cook up some chicken drumsticks but felt bored with my usual methods. It was almost a joke, and when I told my friends I was "inventing a new dish called Chocolate Chicken", they thought it sounded gross. Long story short, the experiment was a success. The chicken tasted good. Like, REALLY good. Crunchy, salty, spicy, sweet. Just to make sure I wasn't crazy, I saved a drumstick for a friend. My friend's response after first bite: "Wow...this is unbelievable!" Try it...and enjoy!""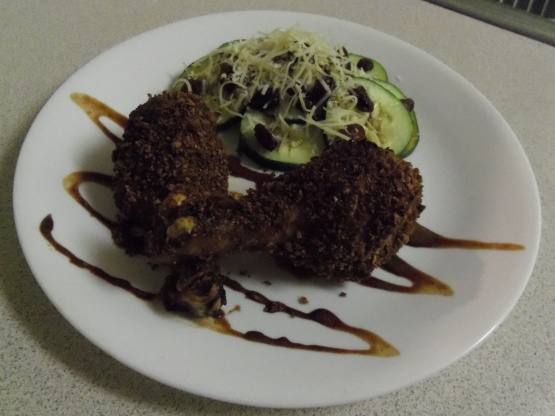 Spicy Cocoa Chicken
1 recipe photo
Directions
Grease glass baking dish lightly with extra virgin olive oil.
In one bowl, rub chicken drumsticks thoroughly with the olive oil.
In another bowl, crush the corn flakes until they become a rough, crunchy powder.
Add the 4 tsp cocoa, 4 tsp sea salt, and 1 1/2 tsp cayenne pepper into the crushed corn flakes and mix it all together with the utensil of your choice until well blended.
Roll the oiled chicken drumsticks in the corn flake mixture using pressure to get a thick coating over each entire drumstick. Stir the mixture again between each drumstick to make sure it stays evenly blended.
Place drumsticks in glass baking dishes and bake in the oven for 40-60 minutes. I just tried to eye it. I noticed the coating brown darker after about 40 minutes, so I cut into one of the drumsticks with a knife. It seemed a bit too juicy still, so I cooked it for another 10 minutes or so. The idea is to make sure it's cooked all the way through (rare chicken is NOT good), but avoid letting the outer breading get too dark. Trust yourself. And remember, if you take it out too early, you can always put it back in the oven. If you take it out too late, there's no going back!
In a cereal bowl (or smaller bowl), vigorously mix together the agave nectar and cocoa powder with a spoon. Add a healthy pinch of salt, to taste. Taste a bit of the sauce. You'll notice it tastes good, but has a bit of a strange flavor by itself because of the agave nectar -- but it all comes together as a very light accent with the chicken.
Drizzle the salty chocolate agave nectar sauce in a zig-zag form on each plate. I made this easier by pouring the sauce into a small zip-lock bag and cutting a tiny tip off one corner of the bag. Then just squeeze the sauce out.
get the genius kitchen app.
Watch on your iPhone, iPad, Apple TV, Roku, or Fire TV.
Learn More