"Recipe 22063 was the foundation of this one - slightly altered from the original. It makes a VERY juicy chicken. And very spicy, too, although you can tame it according to your taste."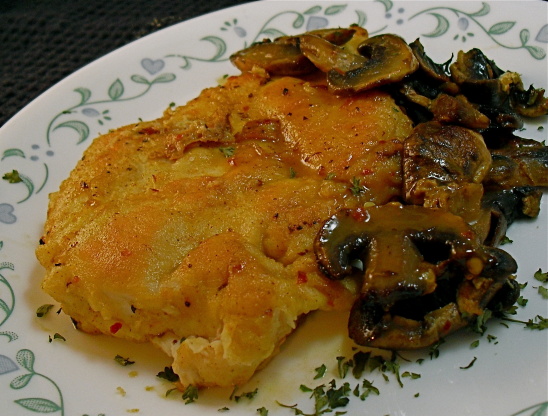 Spicy Honey Orange Chicken Breasts With Mushrooms
1 recipe photo
Directions
Clean and dry chicken breasts. Pound them to an even thickness.
Put flour on a plate. Sprinkle 1/2 the chili powder and no-salt lemon pepper on flour. Dredge the first chicken breast so that both sides are covered in flour and spice. Repeat process for the second chicken breast.
Before you start the chicken, put the rice in the water and heat. When the water boils, cover and reduce heat to low simmer. Simmer for 20 minutes and then let stand until chicken is done.
Heat garlic and olive oil in a pan at medium-high heat. Cook chicken breasts for about 3-4 minutes on each side - until they are about 1/2 cooked.
Remove chicken from the pan and keep warm (I put them in the oven at 170 degrees).
Deglaze the pan with the wine and reduce by half (for those of you who don't know what this means - as I didn't - it means pour the wine in the hot pan and let it simmer/ boil until only half of it is left and all of the chicken fat, etc. is dissolved into the wine).
Add the orange juice, honey and red pepper flakes. Allow it to just boil.
Place the chicken back in the pan and add the mushrooms. Cook at medium-low heat for about 10 - 12 minutes (until chicken is cooked through). Pour sauce over chicken occasionally.
Serve over rice.