"Medium-spicy flavor, tangy tomato taste (only for real sun-dried tomato lovers) and a bright, sweetish accent from the touch of orange and cinnamon. Use the best sun-dried tomatoes for this recipe. Try it on pasta (I suggest about 1/2 cup per 4 ounces pasta) with parmesan cheese or crumbled feta or toss with beans. It would also make a terrific pizza sauce. This recipe is easily halved and the sauce can be frozen. From Angelica's Home Kitchen in NYC, voted 2006 best vegetarian restaurant."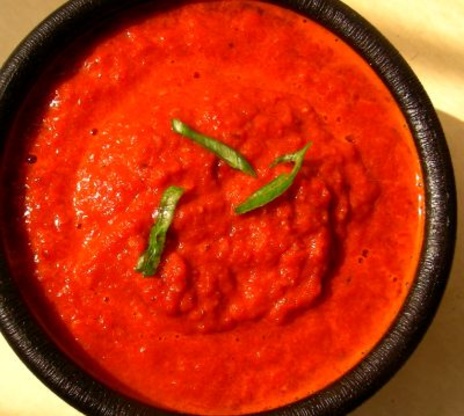 Spicy Sun-Dried Tomato Sauce
2 recipe photos
Directions
Bring 6 cups of water to a boil in a 3-quart sauce pan. Add the tomatoes and simmer for 2-3 minutes. Remove pan from heat and set aside.
In another 3-quart saucepan, soften the onions in the oil over medium heat for 5-7 minutes, then add carrots, garlic, cinnamon, orange peel, black pepper, cayenne and salt.
Reduce heat to low, cover the pan, and simmer for 20 minutes.
Drain tomatoes and add them to the onion mixture along with 6 cups of fresh water. Raise heat to high and bring sauce to a boil.
Reduce heat to low and simmer, uncovered, for 10 minutes.
Remove cinnamon stick (if using) and orange peel. Add the basil and balsamic vinegar.
Carefully puree the sauce in batches in a blender until smooth. Season with additional sea salt to taste.