"This is an awesome sweet hot salsa. It's a canning recipe not a fresh mix so with this one, you can have Peach salsa all year round :-) I've changed the recipe some deleting the celery as I don't like it (but to keep the necessary proportions of acids the same for safe canning, I subbed 1 3/4 extra cups green pepper and a 1/4 cup hot pepper. I used jalapeno but you could use your favorite) & adding two extra peaches; This salsa is wonderful w/ grilled chicken or fish or just as a go along to chips.Be prepared;with the jalapenos it DOES have a bite."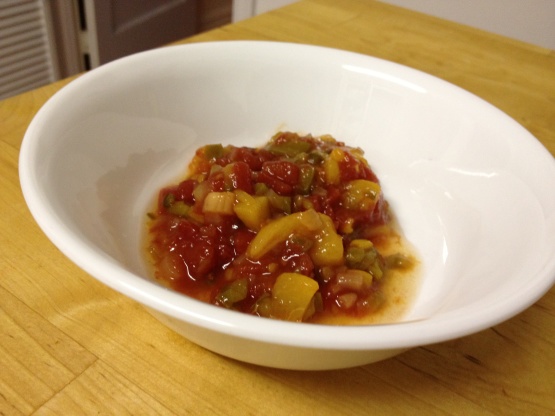 Spicy Sweet Peach Salsa
1 recipe photo
3

lbs ripe tomatoes, peeled then chopped (about 7 medium)

2

cups celery, sliced (again I delete that & sub extra green peppers & hot peppers)

2

cups onions, chopped

2

green peppers, seeded and chopped (1 1/2 cups)

5

fresh peaches, peeled then chopped

1

cup sugar

1

cup white vinegar
1 1⁄2 teaspoons salt
1 1⁄2

teaspoons pickling spices, in cheesecloth
Directions
Pour boiling water over tomatoes; leave for one minute.
Drain and cover with cold water.
Peel, chop and measure to get 1 1/2 quarts (6 cups) Pour boiling water over peaches and let sit for two minutes.
Drain water and immediately cover with cold water.
Let sit for about 5 minutes then peel; the water baths should make the peels come off fairly easily.
Put tomatoes and peaches into large heavy bottomed saucepan with all other ingredients.
Boil slowly, stirring often, until thickened, about two hours.
Remove spice bag and discard.
Pour into sterilized pint or half pint jars, leaving 1/4 inch headspace.
Process in boiling water bath for ten minutes; cool and store.