"Another Alton Brown masterpiece from the American Classic I Good Eats episode, 2007. I list the original full measurements that he gave below. However, I'm not a big raw onion person, so used only half a sliced onion, and, for health reasons, cut the amount of bacon in half, which didn't diminish the flavor of the recipe in the least. I could happily gorge on spinach salad all day! **Alton recommends loose leaf Savoy or semi-Savoy spinach, if available, eschewing the bagged varieties for freshness reasons. Since I couldn't find any loose leaf, however, I just carefully checked the bagged kind for any brown or slimy areas, and went organic for an extra health kick. **Alton has his own method of hard-boiling eggs. I simply put them in hot water with an "Eggsact Eggtimer" and simmer them until the device reads Hard! Have never had a problem with grey yolks, etc. **If you're lucky enough to find slab (unsliced) bacon, it's easiest to wrap it in parchment paper and slice it yourself to a generous 1/4" thick, discarding the paper ribbon when done. **Finally, if you don't have red wine vinegar on hand, I got away with 2 T balsamic vinegar plus 1 T apple cider vinegar."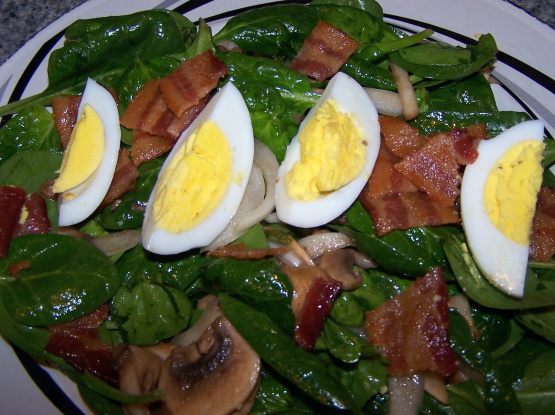 Spinach Salad With Warm Bacon Dressing
1 recipe photo
READY IN:

21mins

SERVES:

4

UNITS:

Metric
Directions
Remove the stems from the spinach and wash, drain and pat dry thoroughly. Set aside.
Place the eggs into an electric kettle and cover with cold water by at least 1-inch. Turn the kettle on. Once the water comes to a boil, the kettle will turn itself off. Leave the eggs in the water for 15 minutes. Remove and peel off the shell. Slice each egg into 8 pieces and set aside.
While the eggs are cooking, place a metal rack in a shallow baking pan (I use cooling racks in a 9 x 12 jelly roll pan) and drape the bacon across the grid. Place in cold oven, turn oven to 400 degrees F, and bake for 15-20 minutes. When done, remove the bacon to a paper towel to drain, reserving 3 tablespoons of the rendered fat. Slice the bacon in 1/2" pieces and set aside.
Transfer the fat to a large stainless steel bowl set over low heat and whisk in the red wine vinegar, sugar and Dijon mustard. Season with a small pinch each of kosher salt and black pepper. Turn off the heat, but keep the bowl on the burner.
Add the spinach, mushrooms and sliced onion and toss (tongs work beautifully), as the residual heat from the dressing and sides of the bowl transfers to the salad.
Divide the spinach between 4 plates or bowls and evenly divide the egg and bacon pieces among them. Season with pepper, as desired. Serve immediately.