"This recipe hails from one of my favourite restaurants, "The Witchery - By The Castle" in Edinburgh, Scotland, which is towards the top up the hill near the gates of Edinburgh Castle. The restaurant is located in a very old and atmospheric building where the "Old Hell Fire Club" used to hold their meetings. The Witchery serves this delicious steak there, called Steak Balmoral, which has the most divine whisky sauce I have ever tasted! Serve this steak with chips (French fries), boiled, jacket or steamed new potatoes and seasonal greens or a tossed salad. The sauce is uniquely famous for its stunning simplicity - no need for onions or garlic, the cream, mustard, mushrooms and whisky tick all the taste boxes! More information from the restaurant's web-site: Located in an historic sixteenth-century building at the gates of Edinburgh Castle, James Thomson's Witchery is the most atmospheric and spectacular dining destination in the city. A unique location,stunning interiors and superlative food, wine and service create memorable and magical dining experiences for locals, visitors and celebrities alike. Ewan MacGregor, Michael Douglas, Catherine Zeta Jones, Jack Nicholson and Clarissa Dickson Wright have all succumbed to its charms, with Andrew Lloyd Webber calling it the prettiest restaurant ever! Originally built for an Edinburgh merchant in 1595, this historic building on the Royal Mile now includes the jewel-like Witchery diningroom, the spectacular Secret Garden and a collection of totally indulgent and opulent suites on the floors above and in an adjacent historic building. (This recipe is the authentic recipe from the restaurant's web-site.)"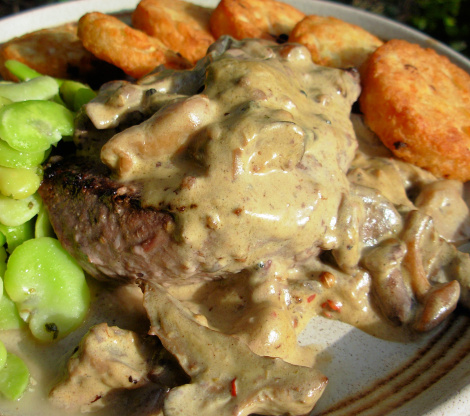 Steak Balmoral and Whisky Sauce from the Witchery by the Castle
10 recipe photos
READY IN:

20mins

SERVES:

2

UNITS:

US
Directions
Heat a skillet or frying pan over medium heat, then add the butter and green peppercorns and cook until the peppercorns release their aroma, about 1 to 2 minutes. Add the steaks to the pan and cook to taste, then remove them and keep them warm.
Add the whisky to the buttery steak juices in the pan and carefully set it alight, flambe it until the flames die down; then add the honey (if using), cream, stock and mushrooms and bring to a boil, reducing the heat to a gentle simmer.
Simmer gently until the sauce has reduced by half, stirring from time to time to ensure that the mushrooms do not stick. Add the mustard, stirring well and season to taste with salt and freshly ground black pepper.
Serve the steaks with the sauce poured over the top and a selection of seasonal greens or a salad with chips (French fries) or a baked jacket potato.
NB: The honey is optional, it adds a mellow flavour to the sauce if you feel the whisky makes the sauce a little too bitter - it does not add a vast amount of sweetness, so you can add it as an option.