"I made this recipe up for my husband because he loves big juicy burgers with lots of flavor. I now make these at least one a week, and sometimes more. We consider ourselves burger connoisseurs, and these are by far our favorite... even better than what we can get in a restaurant!"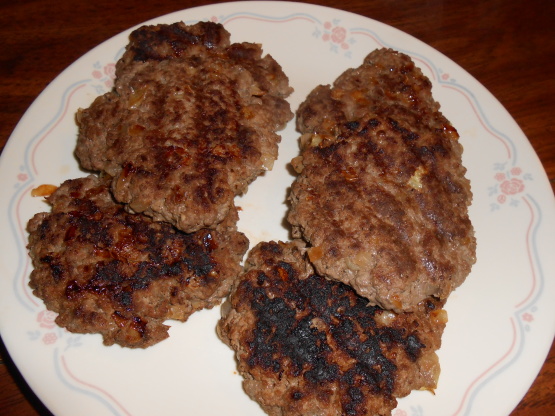 Steak House Burgers
1 recipe photo
Directions
In a large bowl or gallon-size zipper bag, put in the ground chuck, 2 Tablespoons A1, 1 Tablespoon Worcestershire sauce, seasoned salt, and pepper. Mix all the ingredients well until uniformly distributed throughout the meat. Place the meat mixture in the refrigerator while you go on to the next step.
In a medium skillet, heat the olive oil over medium heat. Add the chopped white onions and sautee until tender. This step is OPTIONAL, as you can mix the onions into the burgers raw, depending on your preference. I prefer them sauteed because I think it adds a better flavor to the burger. Once the onions are tender, set aside and allow to cool. Once the onions have cooled, mix them well into the ground chuck.
Preheat your grill. Take the burger mixture and form into 4 to 6 patties, depending on the size you desire. If desired, push a dent in the center of the patties, which will allow them to cook more evenly and retain a flat shape after cooking. Cook the patties 5-7 minutes per side, depending on how well you like them cooked.
After cooking, place the burger on the bun, top with a small amount of A1 if desired, then a slice of cheese. Place mayo or desired condiments on top bun, and sprinkle with french-fried onions. The condiment will act like a glue and hold the onions on. Top with lettuce, tomato, pickle or whatever else you like.