"I wanted to bring sweet potatoes to work for lunch, but didn't want plain old potatoes cooked in the microwave. So I threw this together. Would be good hot or cold. The recipe should make a hearty lunch for two (or three?) -- or serve as a side dish. I used chickpeas but black or pinto beans would probably be just as good."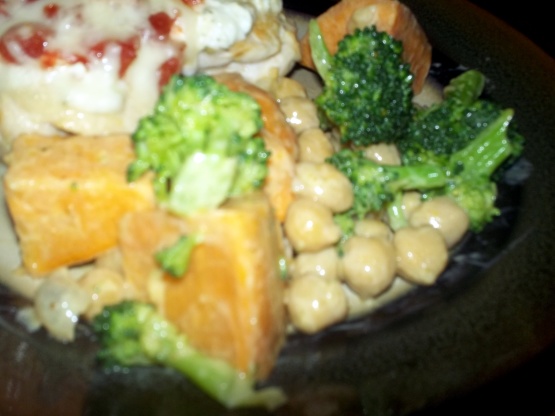 Steamed Sweet Potato, Broccoli, and Bean Salad
1 recipe photo
Directions
Place sweet potato chunks on the stove in a steamer basket. Steam until tender but not overcooked, about 5 minutes. Set aside.
Place broccoli and beans in steamer basket and steam until broccoli is tender but not overcooked, about 4 minutes.
Combine potatoes, broccoli and beans in large bowl and stir gently to mix.
Combine remaining ingredients and stir until blended. Add to bowl and toss until vegetables are evenly coated.
Serve immediately if serving warm. Or chill and serve cold.