"I love the Sun Bird kung pao seasoning packets, but ever since one time they weren't available at the grocery store, I started experimenting with my own. I use Shanghai bok choy, but baby bok choy works too. I don't bother measuring the bok choy or green onions, I use one bunch of green onions and half of a bag of bok choy, so weights are approximate. I also use Veloutine for brown gravies as a thickener, but you could use the gravy thickener of your choice, or even corn starch or whatever. This recipe is vegan as written, but you can make alter that by using 500g of whatever meat you like instead of the tofu, and/or using fish sauce instead of umeboshi vinegar."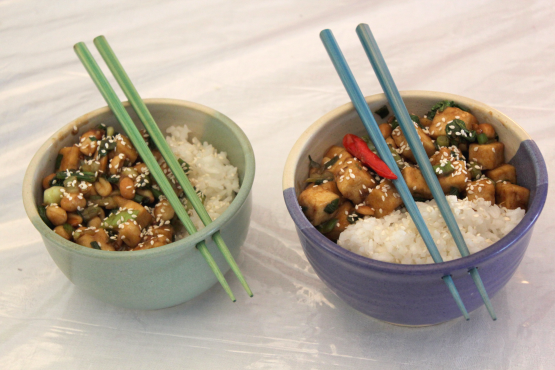 Steve Brown's Kung Pao Tofu
1 recipe photo
Directions
If you're eating this with rice, start the rice first.
Place your wok on the stove and set it to low, so it gets warm throughout.
Open the tofu, wrap in paper towel, and put a pot, bowl, or plate on top to compress it.
Mix all the sauce ingredients, set to one side.
Wash the bok choy, separate the leaves from the stalks. Slice the stalks into short match sticks, chop the leaves, place in separate bowls.
Slice the green onions, add to the bok choy leaves.
Peel the garlic, but leave whole.
Slit the bird chilies lengthwise on one side.
Dice the tofu as you see fit, I like 1 cm cubes.
Set the heat under the wok to medium (I use 5), add the peanut and sesame oil, tilt the pan to coat the sides.
Add the garlic cloves right away, stirring frequently until browned. Remove them and set to one side.
Set the heat on the wok to just below the highest setting (9), add the tofu and toss to coat in oil. Stir fry until the tofu begins to turn golden.
Reduce the heat to medium high (7), and add the peanuts and chilies. Stir fry until the peanuts begin to turn golden.
As this happens, crush the garlic and place it on top of the bok choy stalks.
Add the bok choy stalks and garlic, stir fry until the bok choy turns translucent.
Add the green onions and bok choy leaves, stir fry until the leaves just begin to wilt.
Give the sauce a good stir, and pour over top. Bring to a simmer, and let it go uncovered for a few minutes to thicken.
Remove from heat, use tongs or chop sticks to remove the chilies and set to one side.
Serve over rice or noodles, garnish with sesame seeds. Those who like a little extra heat can squeeze the chilies over their bowls, or add some sriracha pepper sauce.
get the genius kitchen app.
Watch on your iPhone, iPad, Apple TV, Roku, or Fire TV.
Learn More