"Based on pico de gallo made by my brother with his ethnic Mexican friends from work, this turns out to be a really nice, fresh salsa that goes wonderfully on a multitude of Mexican dishes like fajitas, carnitas...you name it.Also works wonders at a party as a salsa dip for tortilla chips. There are similar pico de gallo recipes out there, but this one seems to achieve a subtle balance and slight superiority over others I have tried."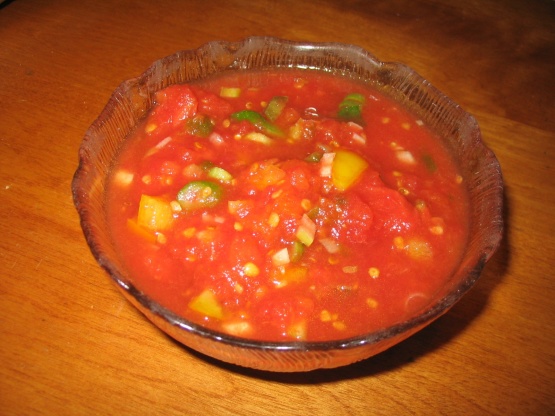 Steve's Wonderful and Relatively Uncomplicated Pico De Gallo
1 recipe photo
READY IN:

45mins

SERVES:

6

UNITS:

US
6

large ripe firm fresh tomatoes
1⁄2-3⁄4

small white onion (to taste)

14

stalks fresh cilantro (to taste)

1 -2

fresh jalapeno (or 2-3 pickled canned jalapenos, to taste)

1⁄2 small green bell pepper (optional)

3

tablespoons lime juice

2

tablespoons fresh squeezed orange juice

1 -1 1⁄2 teaspoon sugar (optional, to taste)
1 1⁄2

tablespoons pickled jalapeno pepper juice, from a jar of pickled jalapenos**

1⁄4 teaspoon kosher salt
Directions
Skin tomatoes by blanching quickly in boiling water for a few seconds until skin begins to wrinkle at the top, then quickly plunging into ice water to stop the cooking. This loosens the skins for easy removal.
Cut skinned tomatoes into quarters and scoop out seeds and any loose pulp. Dice into roughly small cutes. Toss into final serving bowl.
Peel and dice the white onion. Toss into serving bowl.
Wash and separate about 14 stalks or simply half a small bunch of fresh cilantro. Remove tough center stems from leaves with their tiny stems. (Leave attached the tiny stems on leaves),.
Finely mince the plucked cilantro leaves and toss into serving bowl.
Cut the top and stem off one fresh jalapeño and cut in half vertically. If you want to reduce the spiciness, scoop out all seeds and pale flesh until only dark green flesh remains. Toss into serving bowl after dicing fine.Be careful to wash hands after handling. Very painful if rub eyes with jalapeño on your fingers.
Squeeze half orange,strain to remove seeds and toss orange juice into serving bowl.Also, add fresh squeezed(better) or reconstituted lime juice. ""Note: If the orange is a really sweet orange that you use for juice, omit the sugar listed in the ingredients, as the pico de gallo will become too sweet if you use a sweet orange AND sugar -- only use sugar to balance the dish if it is too sour.
Add pickled jalapeño juice from can, or if low sodium, omit this step).
After dicing and combining all ingredients, gently toss to mix and put in refrigerator to chill before serving.
Note: Before adjusting 'heat' (spiciness) be careful to let the pico de gallo rest in the refrigerator a while before adding more hot pepper. As pico de gallo sits the 'heat' diffuses, so don't be fooled when you first taste it. Otherwise if it sneaks up on you, it can become over-hot and you have to add more tomato and other ingredients to balance it again.
Make any final adjustments to balance the flavors. Also, adding too much salt draws water out of the vegetables and makes the pico de gallo watery That won't hurt anything but it is not as aesthetically pleasing if too much liquid.
**Note: Low salt diet users omit salt and canned jalapeño juice and use fresh, not canned, jalapeño.
Makes at least 4 cups.