"Eat these tasty rolls with a fork. No need to heat up your kitchen with the oven!"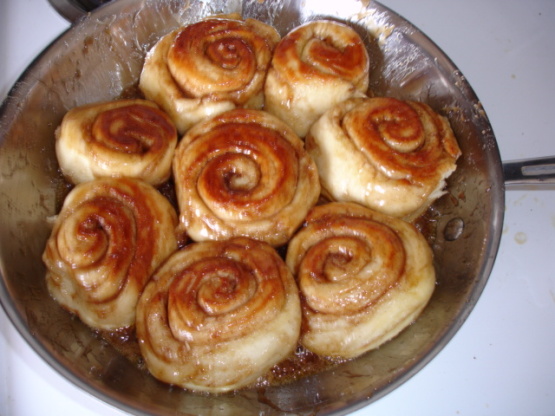 Sticky Skillet Sticky Sticky Buns
2 recipe photos
Directions
Combine 3/4 C flour, 2 tbs sugar, salt, and yeast.
In a microwave safe bowl, microwave 2 tbs butter, milk, and water till warm. add to dry ingredients. add egg and beat together (I used a whisk but you can use a medium speed mixer if desired) 3 minutes.
By hand stir in enough flour to make a stiff dough. Turn on to floured surface and knead 5 minutes. oil the dough and leave in a warm place, covered, about 30 minutes to rise.
In a small bowl combine 2 tbs sugar, brown sugar, cinnamon, and 1/2 TBS butter. Mash together with a fork until well mixed and crumbly.
When dough has risen punch it down and roll out to 1/2 inch thickness. sprinkle sugar mixture over dough and spread to even it out. roll up dough into a log. Let rise 15 minutes. Cut into 8 buns.
In medium-large skillet with a lid melt icing ingredients over medium heat until sugar is melted. Add buns and turn to coat. place lid on pan and let it sit for 10 minutes. remove lid and flip rolls. continue cooking and flipping uncovered until rolls are well browned on both sides. Serve warm.