"From a newsletter I get regularly from grandparents.com, this recipe was described as "A little bite of cheese, a little bite of sweetness, a little bite of crispy & a whole lot of delicious". Just when you think dips have about used up all their originality, along comes a recipe like this to convince you otherwise. (Time includes 5 min to crisp the bacon while you prepare the dates) *Enjoy* !"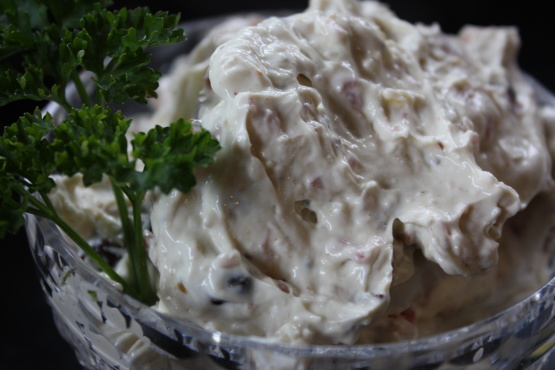 Stilton Date Dip
1 recipe photo
Directions
Using an electric mixer (blender or hand-held blender), combine both cheeses w/salt & pepper.
When blended, add cream until dip reaches desired consistency.
Fold in dates & bacon. Serve w/dippers and/or crackers of choice.
NOTE: Altho the recipe did not suggest this, I feel a chill time to allow the flavor to develop would be ideal . & . I think this would be best if allowed to approach room temp b4 being served. My thoughts, but your choices. :-).