"Posting this here for Annie. (It's a long story.) If you don't use homemade stock use low-sodium beef broth so you can control the salt. You'll need to check your seasonings (salt and pepper) after making the gravy. This makes a little extra gravy for mashed potatoes or noodles or what-have-you. Prep and cooking times are approximate. You can do this! ETA: Thank you, Lainey, for the wonderful review. I was unclear in the instructions about the size of the patties if you had to cook them longer and I apologize. Change has been made specifying that. I'm glad you enjoyed them."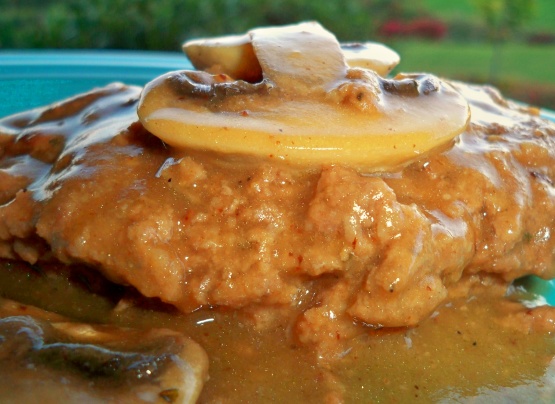 Strapped Budget Salisbury Steak
2 recipe photos
Directions
In a medium bowl combine the ground beef, tomato juice, bread crumbs, minced onion, beaten egg, 1/2 teaspoon salt and 1/4 teaspoon black pepper. Work gently with your hands to combine. Meat mixture will be soft.
Divide meat mixture into 6 oval patties of equal size, approximately 1/2 inch thick.
In a large skillet over medium heat, heat 1 tablespoon of oil. When pan and oil are hot add 3 of the patties and cook until browned on both sides, and just cooked through, turning gently to avoid breaking patties apart. (About 4 - 5 minutes per side).
Remove patties from skillet to a warm plate. Drain away drippings from skillet. Repeat step 3 for remaining patties.
Remove last 3 patties from skillet. Drain away all but 2 tablespoons of the drippings.
Turn heat under skillet to medium-high. Add 2 tablespoons butter to the drippings in the skillet. When melted add 4 tablespoons flour, stirring constantly to combine all to make a roux. Cook 1-2 minutes longer, still stirring.
Turn heat under skillet to high and add beef broth (or stock) and mushrooms, stirring constantly as gravy comes to a boil and thickens.
Remove from heat. Taste gravy and adjust salt and pepper if needed. Return cooked patties to the gravy to heat through.
Serve with mashed potatoes, wide egg noodles and veggie of your choice.