"Found this on a website somewhere. Nice and moist, and the cream cheese complements the berries nicely. These taste best on the day they are made."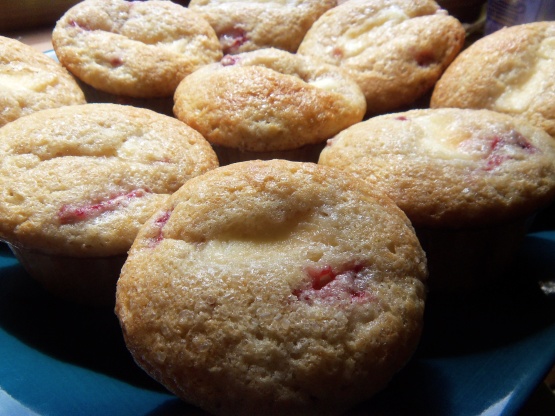 Strawberry-Cream Cheese Muffins
3 recipe photos
Directions
Preheat oven to 400ºF. Line a 12 cup muffin tin with cupcake papers, then spray lined pan lightly with nonstick cooking spray.
In a medium bowl, stir together flour, 3/4 cup sugar, baking powder and baking soda. Cut in butter with a pastry blender until mixture is crumbly. Stir in chopped strawberries.
In a small bowl, blend buttermilk and egg with a whisk. Gently stir buttermilk mixture into flour mixture, mixing only until just combined (do not overmix). Divide batter evenly among muffin cups (you will seem to have too much batter for 12 muffins, but it's not).
Place 2 tbs of sugar in a small dish. Dip each cream cheese cube in the sugar, then place each dipped cube into the center of each muffin. Press the cheese cubes into the muffin batter until they are level with the batter (don't submerge the cream cheese in the batter, though; the tops should still be visible). Sprinkle the muffins evenly with the remaining 1 tbs of sugar.
Bake muffins for 20-25 minutes, or until light brown (a toothpick inserted off-center comes out clean -- do not insert toothpick into cream cheese).
Remove baked muffins from the oven and cool in pan on a wire rack for 10 minutes. Remove muffins from pan and serve warm or fully cooled. Store any leftovers in the fridge.