"I created this recipe as an experiment that turned into a family favorite. Wonderful served with Sunday breakfast or brunch. Also delicious with raspberries instead of strawberries. Sure to delight the senses! This recipe also works as a low sugar/carb recipe! Just substitute sugar free jam, Splenda and Sugar free maple syrup for the sugary sweet ingredients in this recipe (I do this for my diabetic husband all the time) - you'll be surprised how wonderful it tastes."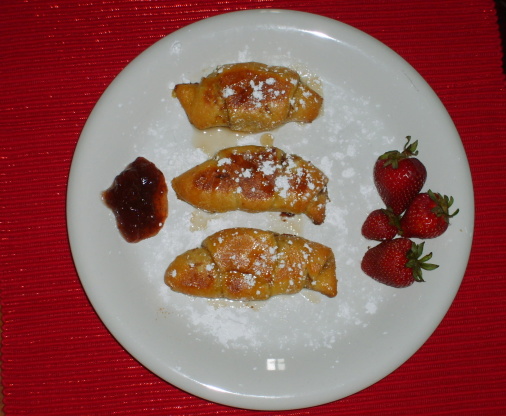 Strawberry Crescent French Toast
1 recipe photo
1

(8 ounce) can refrigerated crescent dinner rolls

8

teaspoons strawberry preserves

2

eggs

2

teaspoons sugar (to taste)

1

teaspoon cinnamon (to taste)
fresh strawberries, for garnish

Toppings

strawberry preserves
Directions
Line a cookie sheet with parchment paper. Preheat oven to 375 degrees.
Open the can of crescent rolls. Unroll each crescent roll onto a cutting board or clean counter. There should be 8 crescent rolls in the package.
Place approximately 1 teaspoon of strawberry preserves onto the short flat end of the crescents, which are triangular shaped. Use a spoon or spatula to spread the preserves down the length of the crescent dough. It does not have to be spread perfectly.
Starting with the flat side of the triangle, roll the dough towards the long pointy end until it is rolled into a crescent shape. The preserves should be inside the crescent. If any preserves leak out, you can dab it away with a napkin or a spoon. Roll up all 8 crescents.
Place the crescents onto the lined baking sheet. There should be about an inch of space between each crescent.
Place the crescents into the oven and bake for 11 to 13 minutes, or until the tops of the crescents are golden brown.
Let the crescents cool. Meanwhile, crack the 2 eggs inside of a medium mixing bowl. Throw away the shells. Whisk in the sugar and cinnamon until well mixed.
Spray a large frying pan with cooking spray. Heat the pan on a stove top at the medium or medium low setting.
Use tongs to dip the crescents into the egg mixture. Coat the cresents and then place them into the large frying pan. Cook each side of the crescents for 3 to 4 minutes or until the egg coating is cooked. You may need to adjust the temperature if the egg coating is taking to long to cook.
Place the crescents onto 4 plates, if serving four people. Place 3 or 4 fresh clean strawberries on each plate, if desired. Drizzle maple syrup over the crescents. Add a spoonful of preserves next to the cresents, for dipping.
Sprinkle powdered sugar, as much as you like, over the crescents. Serve hot and enjoy!