"Over the weekend my DH and I went up to the Rio Grande Nature Center and while there I enjoyed a delicious ice cold glass of Lavender Lemonade. I knew I had to try to make this so I've come up with a recipe of my own. I used Just Dried Strawberries and some hibiscus flowers that I've been saving for ages. I bought my dried lavender flowers at my local herb store. I was delighted to use these in such a tasty treat. This is perfect to quench the biggest thurst during those hot New Mexico summers. The color of this drink is beautiful. I squeezed my own lemon juice which will make all the difference in the taste of this exceptional drink.You can garnish this with a fresh strawberry and lavender flowers."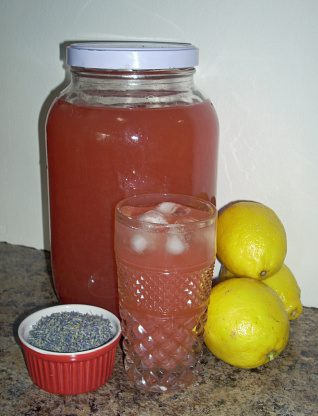 Strawberry Lavender Lemonade
1 recipe photo
10

cups filtered water (divided)
1 1⁄2

cups agave syrup (you may want to add more at the end)

4

dried hibiscus flowers

1⁄4

cup dried strawberries

2

tablespoons dried lavender flowers

4 1⁄2 cups fresh squeezed lemon juice
Directions
In a 6 quart pot, bring 5 cups of the water to a boil. Add the agave and stir with a wisk.
Turn the heat down and put your dried strawberries and hibiscus flowers into the water. Simmer for 6 minutes. Turn off the heat.
Add the dried lavender flowers and let the water cool down completely. Strain the cooled herbal mixture and put into a large pitcher or jar.
Add the other 5 cups water and the lemon juice. Stir again with your wisk and taste. If this is really tart (and mine was) add more agave nectar until its agreeable to your pallet.
I added ice in a tall glass which I chilled.
This drink is wonderful on a hot day.
Bon Appetit!