"This jam recipe is very easy to make and delicious! The strawberry and peach are a perfect combination. I use pectin because it cuts down the cooking time and sugar significantly. You can cut this recipe in half for a smaller batch. This recipe makes approx. 12 8oz. jars. Enjoy!"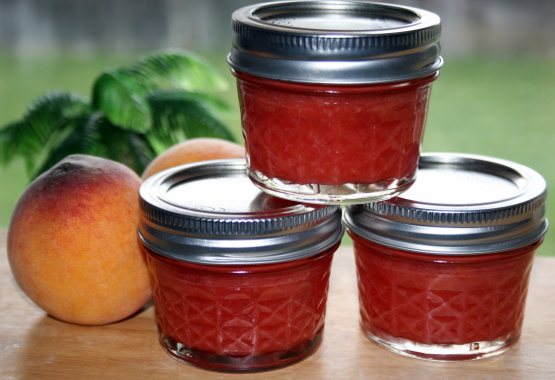 Strawberry & Peach Jam
7 recipe photos
5

cups peaches (equals 12 large peaches, mashed)

3 1⁄2 cups strawberries (equals 3 pints, mashed)

2

cups sugar
1⁄2 cup lemon juice (1 Tablespoon per cup of fruit)

5 -6

teaspoons dry pectin (reviewers have added more pectin for a thicker jam)
Directions
Wash and mash strawberries.
Slice, pit, and dice peaches. Next, mash peaches.
Place fruit in large pan on medium heat.
Cook until it boils, stirring a few times. Reduce heat and cook for 30 minutes.
In separate bowl, combine sugar and pectin and stir together.
Add sugar/pectin mixture into fruit and stir. Add lemon juice.
Boil (high boil) for 5 minutes.
Remove from heat and fill jars to 1/4" of top. Recipe makes approximately 12 8oz. jars.
Wipe rims clean and screw on 2-piece lids.
Submerge sealed jars into hot water bath at 200 degrees or boiling water for 10 minutes. Lids will "pop" once removed from hot water bath and you know they are sealed. Let cool on counter.