"A very traditional Italian hoilday (and/or) special occasion treat, always made at Christmas time. Note: The "cooking time" given is an approximate total cooking time. Each batch should only take about 5 to 10 minutes or so to fry up."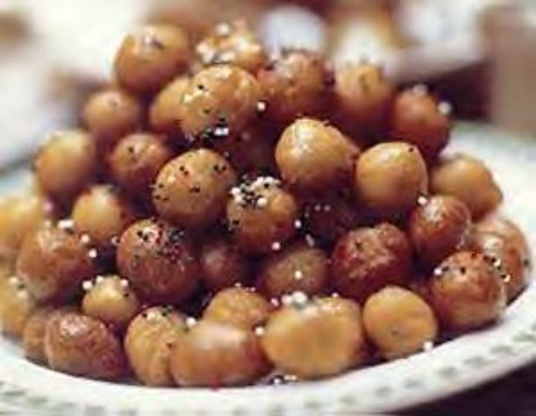 Struffoli/Pignolata (aka Honey Balls)
1 recipe photo
Directions
In a large bowl beat eggs, sugar, grated lemon peel (if desired), and 1 1/2 teaspoons oil until foamy.
Gradually add flour and baking powder.
*Using your hands, mix and knead the mixture well, forming a dough.
Knead the dough until smooth.
(*A Kitchen Aid mixer with a dough hook may be used for mixing/kneading the dough).
Form dough into a ball.
Place dough on a lightly floured surface, and divide dough into 8 to 10 smaller balls.
On a lightly floured surface, roll each ball into a"rope" about a 1/2 inch wide, and 10 inches long.
Using a sharp knife, cut each rope into 1/3 inch pieces.
(Optional, pieces may be rolled into balls about the size of marbles).
Dust cut pieces with a bit of flour.
Heat oil in a frying pan or deep fat fryer to a temperature of 375°F.
Shake off excess flour, and fry the bits of dough (in small batches) until puffy and golden brown.
DO NOT crowd the frying pan or fryer.
Remove each batch of balls with a slotted spoon and place on heavy brown paper (or paper towels) to drain.
Continue frying until all the balls have been fried.
Place drained, fried balls into a large mixing bowl (or disposable roasting pan).
Pour the honey into a large frying pan, and heat until bubbly, remove from heat.
(Honey may be thinned with 2 to 3 Tablespoons of water to make a less sticky/sweet coating).
Stir in grated orange peel (if desired) and pour honey mixture over the fried dough balls.
With a wooden spoon, gently stir and toss the balls until all are evenly coated with honey.
Using hands (or a spoon), place honey coated balls on to a large plate (or pie tin), mounding them into a cone/pyramid shape.
Sprinkle with colored sprinkles.
NOTE: If struffoli are too sticky to handle while shaping, slightly wet hands with cold water to help keep them from sticking to your hands while shaping.
get the genius kitchen app.
Watch on your iPhone, iPad, Apple TV, Roku, or Fire TV.
Learn More