"I haven't tried it yet, but I trust these folks completely. It's from The America's Test Kitchen Cookbook. They said NOT to use lowfat or skim milk. I guess it's the least we can do for their not asking for half-and-half for dipping. Obviously, it's good served with maple syrup, but they also suggest serving with just a pat of butter and a sprinkle of confectioner's sugar. (Yeah....pass that syrup.) This recipe differs from other recipes in that it has a pure cream cheese filling with no fruits or chocolate added in. Might be best for picky eaters."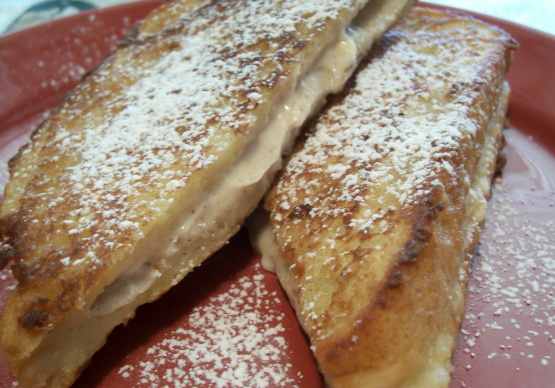 Stuffed French Toast (Cook's Illustrated)
1 recipe photo
READY IN:

1hr

SERVES:

4

UNITS:

US
Directions
Microwave the cream cheese (in a large bowl) on high just until softened, 5 to 10 seconds. Check it. You'd be surprised how microwave ovens vary.
Stir in 2 tablespoons of the sugar and all of the cinnamon and nutmeg. Stir till smooth. Wrap tightly and chill for about 20 minutes.
Meanwhile, adjust oven rack to the middle position. Heat oven to 200 degrees. Arrange the bread on a rack set over a rimmed baking sleet. Bake it until slightly dry, about 15 minutes. (I would say "or stale bread", but if you're familiar with their exhaustive testing approach, it's best to just trust them and do this step.).
Spread the cream cheese evenly over 4 pieces of bread. Leave a 1/2-inch at the edges. ( If you do not leave the border clear, it will just come out while cooking and be wasted.) Lightly press the rest of the slices over the top to make 4 sturdy sandwiches.
Melt 2 tablespoons butter. Whisk it with the milk, egg, vanilla, salt and the remaining 2 T. of sugar. Slowly whisk in the flour until smooth. Pour the batter into a large shallow dish.
Slide 2 sandwiches into the batter and soak both sides, about 1 minute per side. Meanwhile, melt 1 more T. of the butter in a 12-inch non-stick skillet over medium heat until it begins to brown, swirling to coat the pan.
Remove the bread from the batter. Let excess batter drip back in the dish. Lay two sandwiches in the hot skillet. Cook until golden brown on both sides, about 2.5 minutes per side. Transfer to a wire rack and keep warm in the oven. Repeat with the other two sandwiches.