"These are absolutely wonderful little morsels. They never last long. The original recipe came from an old Roswell, GA cookbook. I've seen many variations, this recipe is very forgiving and can easily be lessened or increased. They travel well sitting upright in a clean styrofoam egg carton."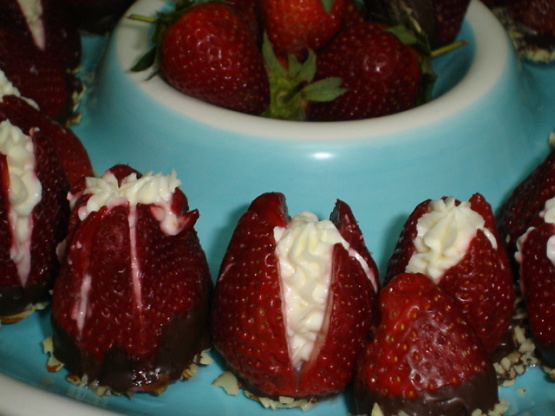 Stuffed Strawberries Elegante
1 recipe photo
Directions
Slice off stem end of strawberries to form a flat base.
Place berries on flat surface, with pointed end up.
With a sharp knife, slice each berry in half vertically to within a 1/4 inch of base. Cut each half into three wedges to form 6 petals. Pull petals apart slightly.
In a small bowl, combine cream cheese, powdered sugar and liqueur; beat until light and fluffy.
With a pastry bag and star tip or small spoon, (if mixture thins too much after beating, place filled bag in the refrigerator for about 15-20 min.) then fill strawberries with cream cheese mixture.
A plastic zipper sandwich bag can be used instead of a pastry bag by filling with cream cheese mixture, cut one corner off of the bottom of the bag and squeeze.
For a beautiful presentation drizzle with melted slightly cooled dark chocolate.