"When the end of the garden comes, I have too many peppers, tomatoes, and other vegetables. I gleaned from all the recipes here I could find and adjusted it to suit our garden produce and tastes. We grow our own herbs, and I tend to be very heavy handed with basil and moderately heavy handed with oregano."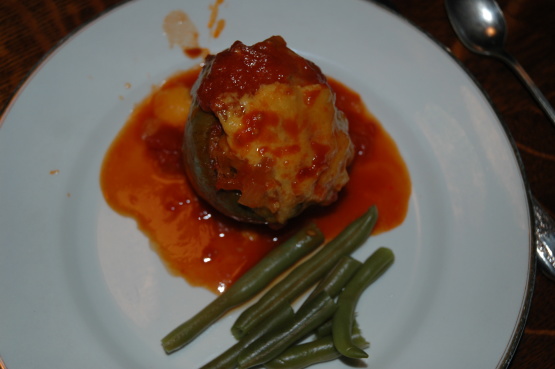 Stuffed Sweet Bell Peppers
6 recipe photos
Directions
Cut the tops off peppers, clean out the seeds and any heavy membranes, and set into 2 (lightly oiled)deep baking dishes.
Saute 2 of the onions with the (diced) tops of the peppers in olive oil.
Set aside to allow to cool.
Saute remaining onion (until translucent) and garlic in olive oil in saucepan (add the garlic in last 3 minutes, so it does not burn).
Add the tomato sauce (reserve about 1/4 cup), diced tomato (if no fresh tomato is available, a small can of diced tomato works fine), and sugar.
Let sauce simmer gently while stuffing peppers.
Slightly beat egg in a medium bowl.
Add ground beef, the reserved tomato sauce, rice, sauted peppers/onion mixture, and spices.
Mix lightly and fill peppers.
Add sauce to baking dish.
Bake (covered) at 350 degrees for 45 minutes, putting cheese on top during last 15 minutes of baking time.
Serve with a green vegetable or salad.