"I drive 3 surburbs across to buy these from my faviorite thai resturant.. i have finaly got the recipe... yummmmmm"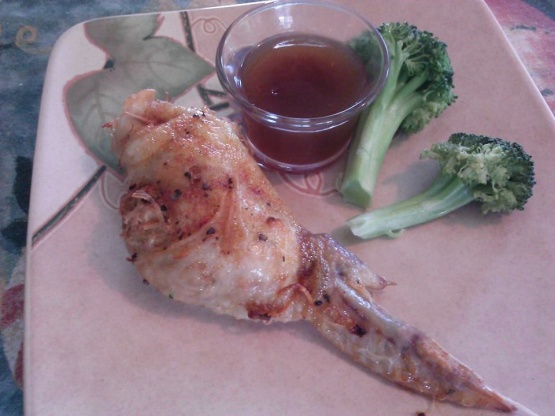 Stuffed Thai Chicken Wings:
2 recipe photos
Directions
Preheat the oven to 200c.
De-bone the chicken wings by cutting around the bone with a sharp knife. Holding the wingtip, gently ease the bone away to leave the skin and a thin layer of chicken.
Soak the vermicelli in warm water for 10 minutes then drain thoroughly and cut into short strands.
Soak the wood ear fungus in boiling water for 10 minutes then squeeze dry and chop into thin slices.
Mix all other stuffing ingredients together. The mixture should be firm.
Mold the stuffing into a ball and insert it into the bag of flesh and skin of the chicken wing.
Steam the stuffed wings for 10-15 minutes.
After steaming, place in a lightly oiled roasting pan and roast in the oven for 30 minutes.
Serve on a bed of lettuce as a starter,with this dipping sauce:.
Dipping Sausce Mix 3 tbsp thai sweet chilli sauce with grated garlic,grated ginger,lime zest and juice,brown sugar and a dash of fish sauce.