"A Spanish tapa. It is essentially egg salad in a tomato. Tuna or chicken salad would also be delicious here. Really nice accompaniment to a green salad or any sandwich or just by itself for lunch."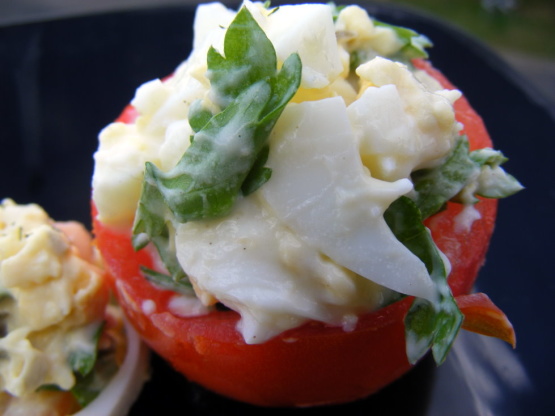 Stuffed Tomatoes
3 recipe photos
Directions
First core and skin the tomatoes; cut out the core with a knife, then score the other end with an "X". Drop each tomato in a pan of boiling water for about 10 seconds, then place in an ice water bath to stop cooking. The skin should now remove easily.
Slice the tops off the tomatoes, reserve. Scoop out any seeds that remain. Season with a little salt and pepper. If any of the tomatoes won't stand up nice, just slice a bit off the bottom to make them stable.
Chop the eggs and combine with the aioli or mayonnaise. Season with salt, pepper, and parsley. Stuff into the tomatoes, then cover with reserved tops.
If prepared ahead, brush lightly with olive oil and cover with plastic wrap.