"Tomatoes stuffed then baked in the oven. Choose the most flavoursome tomatoes you can lay your hands on and, particularly if making this recipe for guests, for a more attractive presentation, choose tomatoes with stalks, and leave the stalk attached to each tomato. Delicious with your favourite salad. We've enjoyed this dish with a potato salad and salad greens. Adapted from a recipe in a March 2005 issue of the Woolworth's 'Fresh' magazine. You can use other variations of rice if you prefer or a mixed rice. Because tomato sizes are so variable, you may end up with slightly more filling than will fit into the tomato shells, in which case you may score a solo meatball which could be cooked with the stuffed tomatoes (perhaps covered with a small piece of foil). Or do what Sheynath did (see her review) and use the stuffing to stuff a pepper."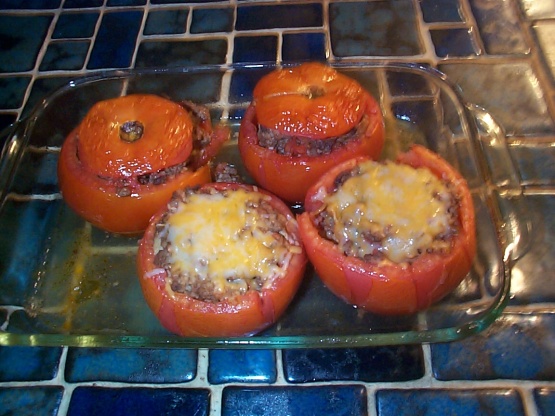 Stuffed Tomatoes With Wild Rice, Beef & Mint
1 recipe photo
Directions
Spray a large pan with oil and heat over a medium-high heat; add the onion, garlic and mushrooms and saute until soft, stirring for 2 minutes; add the ground beef, stirring, and cook for 3-4 minutes or until browned. (You may prefer to remove the onions, garlic and mushrroms from the pan while browning the meat to prevent them from burning.).
Preheat the oven to 200°C.
Cut a thin slice from the top of each tomato and set it aside; use a teaspoon to remove the tomato flesh (well drained of juice) and juice; place the tomato shells in a baking dish; chop the tomato flesh and set aside; and discard the juice or save it for possible use in a stock or soup or casserole.
Stir the rice, chopped tomato flesh, cinnamon and mint through the browned beef mixture, adding the onion, garlic and mushroom mixture if this had been set aside earlier; season with salt and freshly ground pepper, to taste; spoon the mixture into the tomato shells; replace a tomato top on each tomato; spray with a little olive oil; and bake for 20 minutes.
Serve with your choice of salad greens.