"I found this online and have made it several times where it's been gobbled up by diabetics and non-diabetics alike! I hope you'll like it, too!"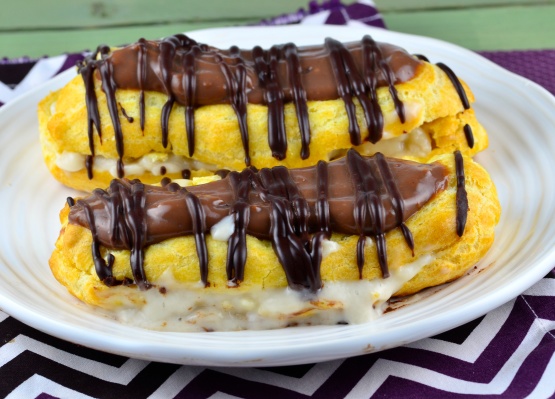 Sugar Free Chocolate Eclairs
4 recipe photos
Directions
DOUGH: In a saucepan, bring water and butter to a boil and add flour all at once, stirring until a smooth ball forms.
Remove from the heat: let stand for 5 minutes and add eggs, one at a time, beating well after each addition: continue beating until mixture is smooth and shiny.
Transfer to a resealable plastic bag, seal, and cut a 1" hole in one corner of the bag.
Pipe eight 3 1/2" logs onto an ungreased baking sheet.
Bake at 450F for 10 minutes, reduce heat to 400F and bake 15-20 minutes longer or until golden brown.
Transfer to a wire rack and immediately put a slit in each to allow steam to escape; cool and carefully cut off tops.
Set tops aside and remove soft dough from the inside with a fork.
VANILLA FILLING: In a mixing bowl, beat milk, vanilla, and pudding on low speed for 2 minutes or until thickened, fold in whipped topping and set aside.
CHOCOLATE FROSTING: In another mixing bowl, beat milk and chocolate pudding for 2 minutes or until thickened.
Spoon vanilla filling into eclairs, replace tops and frost with chocolate topping.
Enjoy!