"From a recipe in the cookbook Beat This! with one change -- they used sour cream instead of yogurt. The recipe said it made 12, but I got 15. These are sturdy muffins that freeze well."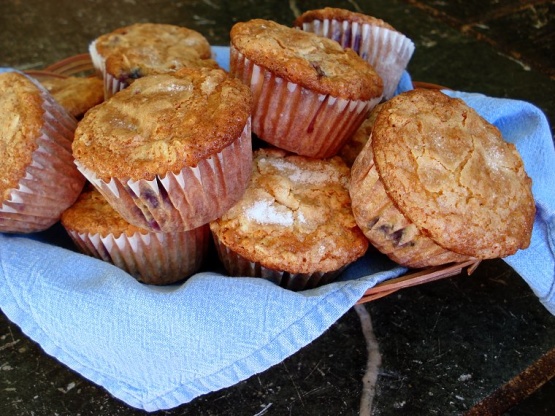 Sugar Hill Blueberry Muffins
1 recipe photo
Directions
Line a muffin tin with muffin-cup liners -- the recipe won't work without them.
Combine flour, baking powder, baking soda, and salt in a small bowl and set aside.
In a large bowl, beat the eggs with the yogurt until thoroughly combined.
In a medium saucepan over medium heat, melt together the butter and brown sugar.
Beat this mixture into the egg mixture and stir in the oats.
Fold in the flour mixture and then the blueberries.
Fill the muffin cups 2/3 full.
Drop a generous pinch of sugar onto the top of each muffin.
Bake 20-25 minutes at 375 degrees and cool for 5 minutes before removing from pan.
Finish cooling the muffins (in their papers) on a wire rack.