Want more from Genius Kitchen?
Watch on your Apple TV, Roku, or Fire TV and your iOS, Fire, or Android device.
Learn More
"A European-style artisan bread boasting a thick, chewy crust with large holes created by Jim Lahey. Equipment needed: Two Medium Mixing Bowls (one to mix the dough and one for rising), 6-8 Quart Pot with Lid (Pyrex glass, Le Creuset cast iron, or ceramic), Wooden Spoon or Spatula (optional), Plastic Wrap, Two or Three Cotton Dish Towels (not terrycloth for it will stick), Parchment paper (optional). See last note for variations."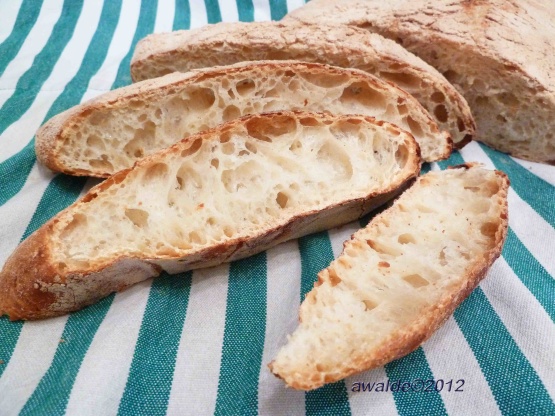 Sullivan St. Bakery Bread
3 recipe photos
Directions
Mix the first 3 dry ingredients in a medium bowl. Add water and incorporate by hand or with a wooden spoon or spatula for 30 seconds to 1 minute. Dough will look shaggy and sticky.
Lightly coat the inside of a second medium bowl with olive oil and place the dough in the bowl. Cover the bowl with plastic wrap and let the dough rest at least 12 hours at room temperature (approx. 65-72°F) or overnight.
Remove the dough from the bowl and fold once or twice (my dough was very soft so I just folded it over in the bowl with a spatula). Let the dough rest 15 minutes in the bowl or on the work surface. Next, shape the dough into ball. (This is difficult due to its wetness, but it's not wise to add too much flour to the dough. The point is to scrape it out onto a generously floured surface and coat the dough with enough flour to keep it from 'mostly' spreading.) Generously coat a cotton towel with flour, wheat bran or cornmeal (about 1/4 cup); place the dough seam side down on the towel and dust with flour, being gentle so as preserve the air bubbles. (Note: Instead of placing on a towel, place the dough on a flour-dusted piece of parchment paper. It will be easier to transfer.) Cover the dough with a cotton towel and let rise 1-2 hours at room temperature, until more than doubled in size. Don't rush, it's a slow rising dough.
Preheat oven to 450-500°F Place the pot (see in description above) in the oven at least 30 minutes prior to baking to preheat. Once the dough has more than doubled in volume, remove the pot from the oven and place the dough (if using parchment paper, lift then place with paper) in the pot seam side up. Shake pot to evenly distribute dough, if necessary, but it should straighten out during the cooking process. Cover with the lid and bake 30 minutes Then remove the lid and bake 15-30 minutes uncovered, until the loaf is nicely browned. Cool on wire rack.
Variations: In Step 1, add either 1/4 cup chopped fresh rosemary; 1/2 cup roughly chopped pitted kalamata or other olives; 1/3 cup grated Parmesan and 1/2 tsp freshly ground pepper; 1 head of roasted garlic cloves (each chopped in half) or 1/4 cup oil-packed sun-dried tomatoes, drained well and finely chopped.
You can also make a rustic version of this bread by replacing one of the cups of bread flour with whole-wheat flour and adding 1/4 cup each of wheat bran and flaxseeds.
get the genius kitchen app.
Watch on your iPhone, iPad, Apple TV, Android, Roku, or Fire TV.
Learn More