"I used to work in the kitchen of a summer camp back in the day and we would always make this recipe for the kids at snack time and set some out for breakfast. During the breakfast hours I would see some kids pour milk over it and have it as a kind of makeshift cereal. Of course we would make this in tremendous quantities so I've had to do some math and lessen the ingredient amounts needed. So just a quick tip: if you decide to double this recipe, please use 3 large eggs instead of 4 small eggs. Also keep an eye on the oats as they're cooking, as all ovens are different, so they don't burn."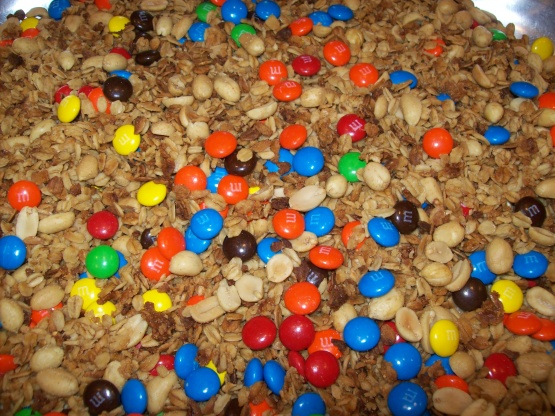 Summer Camp Gorp
1 recipe photo
1⁄2 cup honey

1

teaspoon vanilla
1 1⁄2 cups packed brown sugar

2

small eggs

9

cups uncooked oats

Optional Mix-Ins

chocolate candy (like M&M's)

use any dried fruits, nuts or candy, you want....the possibilities are endless
Directions
Preheat oven to 350 degrees.
Beat butter, brown sugar, and honey until fluffy.
Beat in eggs & vanilla
Add oats and mix until well combined.
Spread mixture thin onto lightly greased cookie sheet(s).
Bake 15 minutes and then ,with a spatula, turn the oats a little so the bottom does not burn.
Bake another 10-15 minutes or until oats are golden brown.
Let oats cool at least 1 hour and then break into desired chunk sizes.
Add desired amount of mix-ins and blend.