"A.1. Original Sauce Recipe Contest Entry. An easy and delicious flatbread with the flavors of A.1. Original Sauce, steak and fresh summer ingredients."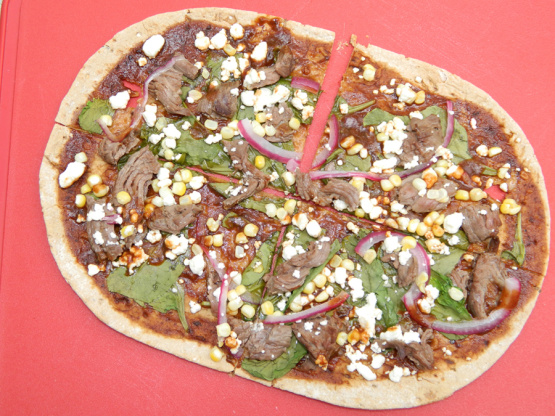 Summer Steak Flatbread #A1
1 recipe photo
Directions
Preheat oven to 375 degrees F.
Season steak with salt and pepper.
In a large pan, heat olive oil over medium heat. Add steak to pan and let sear until browned, about 2 minutes. Flip over and sear on other side for 2 minutes. Remove steak from pan and let rest for 10 minutes.
Place flatbreads on two baking sheets. Mix A.1. Original Sauce with tomato sauce. Spread onto flatbreads.
Place spinach leaves on sauced flatbreads.
Slice steak thinly or into bite-size pieces. Add steak, red onion and corn kernels to flatbreads. Top with crumbled goat cheese.
Bake in oven for 7 minutes. Slice and serve.