"In the beginning I dried my tomatoes on racks covered with cheese cloth, top and bottom, to keep out the bugs. This worked fine, unless I forgot to bring them in at night, then they were prone to get moldy. I bought a dehydrator, and wow! Most of my Roma Tomatoes become "sun dried". They are great to eat just as they are, as garnishes on hors d'oeuvres, cut up in salads, or in recipes calling for tomatoes. They have become a staple in our house. This recipe is an adaptation from Fancy Pantry 1986. I dry more than ten tomatoes! I wanted to post this amount so it would be easier to visualize and calculate in the nutrition column. My next step in this process is
Sun-Dried Tomatoes in Olive Oil
"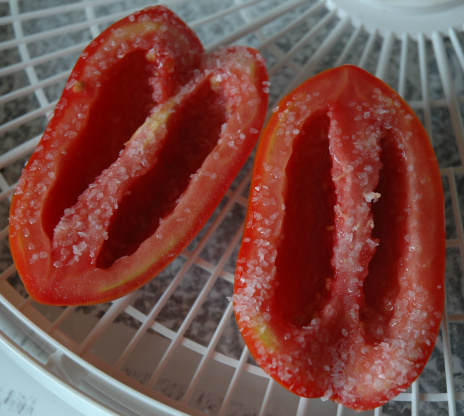 Sun-Dried Tomatoes
8 recipe photos
Directions
Cut tomatoes in half lengthwise with membranes in center.
Scoop out seeds and juice with back of thumb.
Cut wedge to get rid of core.
Place on drying rack.
Sprinkle lightly with salt.
When dry, not brittle, just slightly rubbery, remove from rack and place in bowl.
Toss with vinegar until all are moist, but not wet.
Pat excess moisture with paper towel.
Place in ziplock bag, squeeze out air, zip, and refrigerate in vegetable bin. (I keep mine for up to a year).