"This recipe for Sushi Rice comes from an expert, Reiko Hashimoto..It's the perfect rice and basis for a great sushi dish. Follow the recipe exact and you should have no problems. Don't let the long recipe fool you, it's very easy to make."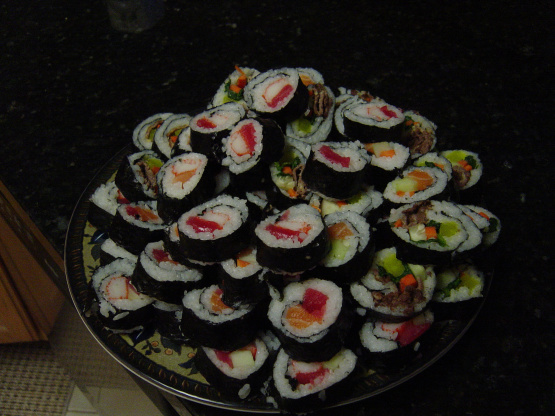 Sushi Rice
1 recipe photo
Directions
Step 1: RINSE THE RICE. Put the three cups of rice in a large bowl. Lightly rinse the rice by adding enough cold water to half fill the bowl and swirl it around with the rice. Rinse it, swirl it again and drain again and again. Scrunch the rice about in the bowl with your hands while rinsing it -- this should take 3 or 4 attempts. Transfer the rinsed rice into a large saucepan. Pour in 3 and 1/3 cups of water and leave it to soak for at least 30 minutes. As it soaks the rice will become whiter and water clear.
Step 2. PREPARE THE SUSHI VINEGAR. Put half a cup of rice vinegar, quarter of a cup of sugar, a pinch of salt and a tablespoon of powdered Dashi into the small saucepan. Heat gently and stir to ensure that the sugar and salt dissolve. Don't let the mixture boil as it will impair the flavor. Only heat long enough to dissolve. Let it cool while you prepare the rice.
Step 3. COOK THE RICE. Put the lid securely on top and turn the heat to high. Avoid lifting the lid at all times through out the cookin process as this will allow the steam to escape. When the rice begins to boil, reduce the heat and leave it to simmer for 15 minutes. After the fifteen minutes are up, turn off the heat and leave the rice to stand for another 15 minutes.
Step 4. STIR IN THE SUSHI VINEGAR. Transfer rice into a large wooden bowl. *I use a glass one and it works fine* Pour the cooled sushi vinegar over the rice. Use a flat spatula in a cutting motion to fold the mixture into the rice. While you are folding, use your other hand to fan the rice. You want to bring that rice to room temperature while folding.
Step 5. READY TO SERVE. It's best to use the rice immediately. It should be shiny and sticky, with each grain separated and not mashed together. It should be used at room temperature. If you don't need it straight away, cover the bowl with a damp cloth. This will prevent it from becoming to hard.
You are now ready to start experimenting with sushi recipes.
get the genius kitchen app.
Watch on your iPhone, iPad, Apple TV, Roku, or Fire TV.
Learn More