"This is the best relish I have ever had. I use my food processor to chop. This is another small batch recipe. So, try it and see if you like it too."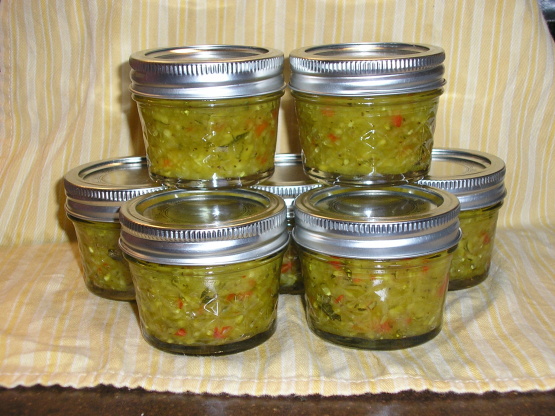 Sweet and Snappy Zucchini Relish - Small Batch
1 recipe photo
Directions
Combine zucchini, onion and sweet pepper in a large non-reactive bowl. Sprinkle with salt, stir well. Let stand 1 hour.
Drain through a sieve, rinse and drain again, pressing out excess water.
Combine drained vegetables, sugar, vinegar, mustard, celery seed, hot pepper flakes and turmeric in a large stainless steel saucepan. Bring to a boil over high heat. Reduce heat and boil gently, uncovered until vegetables are tender - about 15 minutes.
Blend water and cornstarch; stir. Cook 5 minutes or until liquid thickens and turns clear, stirring often.
Ladle into hot, sterilized jars to within 1/2" of rim. Wipe rims, add hot lids and rings.
Process in boiling water bath 10 minutes for half-pint jars, 15 minutes for pint jars.