"This is a tomato-based sauce that can be used with chicken, meatballs, or any recipe that calls for sweet and sour sauce. Start with 3 tablespoons tomato paste and add in more to taste."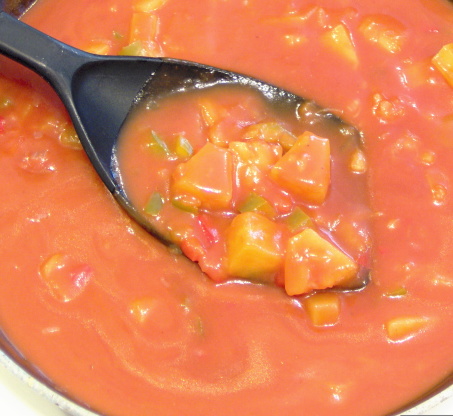 Sweet and Sour Tomato Sauce
2 recipe photos
2

tablespoons oil

1⁄4 cup green bell pepper, diced
1⁄4 cup red bell pepper, diced
1⁄4 cup finely chopped onion
1 1⁄4 cups water

2

tablespoons cornstarch

2

tablespoons firmly packed brown sugar
2⁄3

cup unsweetened pineapple juice

3

tablespoons tomato paste (add in more to taste)
1⁄2

cup unsweetened pineapple tidbits, canned in natural juices (reserve the leftover juice to make 2/3 cup)

1⁄4 teaspoon salt

1

dash hot pepper sauce (optional)
Directions
In a small nonstick skillet over med-high heat, saute the onion and green peppers, until onion is translucent; set aside.
In a saucepan, combine water, corstarch, brown sugar and pineapple juice; bring to a boil, whisking to combine.
Whisk in 3 tablespoons tomato paste (add in more to taste).
Add in diced pineapple tidbits and sauteed veggies, salt and hot pepper sauce; stir to mix well.
Cook until thoroughly heated.