"A quick sweet snack that is very popular in Greece and there are many different recipes. This is my favorite."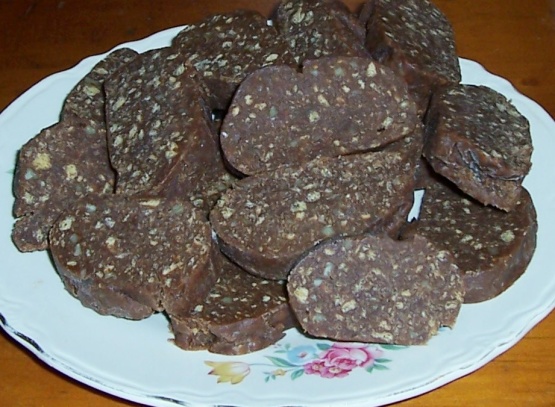 Sweet Biscuit Chocolate Roll
1 recipe photo
250

g margarine

260

g powdered sugar

3

tablespoons cocoa

2

eggs

3

tablespoons walnuts

1

tablespoon brandy

350

g any kind cookies (I buy a petit beurre biscuits or digestive biscuitscrumbs, graham crackers are suitable)
Directions
Cut by hand the biscuits in crumbs. Chop the walnuts.
Melt the margarine in a small pot and then add the sugar and the cocoa. Stir with a spoon until well mixed.
Beat the eggs and put them to the margarine mixture; stir.
And finally add the biscuits crumbs and the walnuts. Stir until they are mixed.
Cut a piece of parchment paper about 13x18" size. Arrange the cookie-mixture as a roll in the middle of the paper and roll.
Put the roll into the freezer for a couple of hours.
Then remove and store at the fridge. Enjoy!
Cooling time is not included!